Ring in a (Riding) Ring: An Equestrian Fairytale Engagement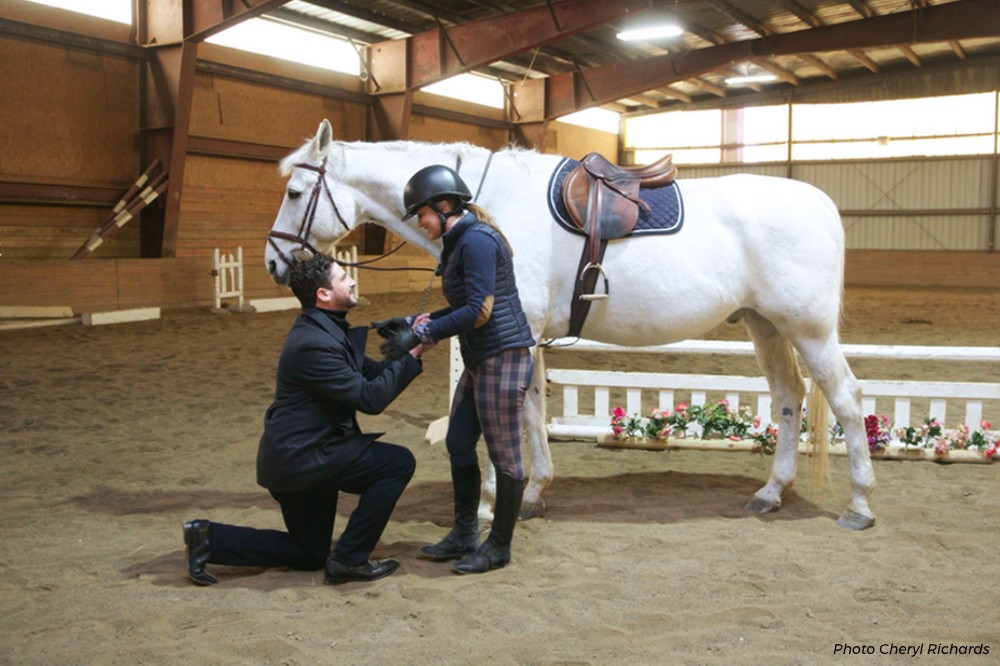 When Francesca met Johnny, she only waited one week before introducing her new beau to her "other man," Schimmel; a particularly handsome grey gelding. The seal of approval from our horses is of utmost importance in relationships. Socially intelligent and intuitive, they seem to be an even better judge of character than our mothers.
Once it was established that horse and boyfriend were going to get along fabulously, Johnny, who had not previously had much exposure to equestrian life, enjoyed his time around the horses. As equestrians, we are all nodding our heads appreciatively. There's nothing worse than a guy who wrinkles his nose at the smell of horse dander.
One year and five months later, Johnny left for the day to go snowmobiling. Francesca headed to the barn, where her trainers Olana and Michele had arranged to have a photo shoot to get pictures for the facility's website. Everyone was requested to be in the indoor with their horses for a group shot.
Once mounted on Schimmel, Francesca got a shock when Johnny strolled into the ring. He asked her to dismount, and the other ladies quietly moved away. As soon as she had both feet on the ground, Boyfriend of the Year dropped down on one knee and popped the all-important question.
Francesca, who was the only one not in on the surprise, said yes immediately. "I felt like I was in a fairytale when my prince charming swept me off my white horse," she said, "I would never have dreamt getting my ring inside a ring, my most favourite place to be!"
The couple is tying the knot one year from now, in Boston. Congratulations on your memorable engagement, and special kudos to Johnny for knowing exactly the right way to propose to an equestrian.