When Alexis Martin thinks of her time spent growing up around horses, taking lessons, and making lifelong friends in the barn, Lawson Mayfield always comes to mind.
Lawson was several years older than Alexis and her twin sister Alyssia. She was in many ways, their first riding idol. She seemed fearless, happy to ride any green horse their trainer, Andrea Duffy, put her on at the farm near Tallahassee, Fla. She was hardworking, managing multiple horses in her string at high-profile competitions like the Washington International Horse Show and the Pennsylvania National Horse Show, as she rounded out a successful junior career in the hunters.
"I started riding when I was three. My trainer used to babysit me. Lawson was at the barn since she was eight years old, and I was just a little baby. She was always in the picture," Alexis describes, who is now 23. "I was very timid when I started out riding, and Lawson always wanted to help me."
Lawson was set to go off to college in Central Florida until she fell ill. The young rider died suddenly in 2009, when she was just 18 years old, from a form of bacterial meningitis.
It was a tragic blow to anyone who knew her.
"No one knew what to do at the time," recalls Alexis, who was 13 when she lost her friend. "Going to the barn first thing in the morning became a routine for all of us. All the other girls who rode like me would just end up there, doing barn chores and keeping the horses ridden as we coped."
But through the sudden loss bloomed a beautiful and everlasting connection.
Read This Next: When Tragedy Strikes, Don't Ignore Your Warning Signs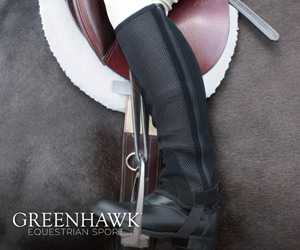 Lawson left behind her two show horses. Budweis'czar', or "Bud", a stout bay Oldenburg gelding, was a talented junior hunter mount. He sat in the barn without a job after his owner died, until Alexis' trainer one day asked her to hack him.
"I was so scared because he was so big," she admits. Alexis was wrapping up a career in the pony hunters at the time and still considered herself a 'timid' rider. "But before I knew it, I was going around the Pre-Childrens with him. I fell in love with him. Our first show, we won every single class. The next show, my trainer moved me up to the Children's Hunters."
Lawson's other show horse, Tommy, became Alexis' sister's show partner. And so began a new partnership, in which both girls rode with Lawson's love for the sport and her horses in spirit.
My trainer put a ribbon on his stall, and told us they'd always have a place to stay, that we never had to worry.
"When I ride him in some of the bigger shows and bigger classes, my nerves always set in. But I can feel her with us. Lawson is guiding us around," Alexis explains.
Alexis would go on to compete with Bud on some of the biggest stages in the hunter world. Bud gave her confidence to rise through the levels and to jump higher than Alexis ever dreamed.
After the twins' high school graduation, and after years of leasing Lawson's horses, they were given the gifts of a lifetime: Lawson's family sold the horses to them.
"It was an emotional time, thinking about what could have happened at the end of the lease. There was a chance that he could have been sold," Alexis says. "My trainer put a ribbon on his stall, and told us they'd always have a place to stay, that we never had to worry."
Alexis is back in Tallahassee after a successful showing at the WIHS this year, and is perusing a college degree while juggling her riding goals. She gearing up for her local zone finals toward the end of the year.
"I definitely have goals of going back to the indoors," she says. "On top of that, I have an idea in the back of head of getting another big Bud. A young green horse by his same sire, because I've just had so much fun with him."