Product Review: Slow Feed Hay Bag

I've had the same hay net for forever. It's one of those old-school twine nets, and while it's lasted me a long time, it is a pain to use.
The twine is twisted, knotted and frayed in so many places just from general use. My horse has abused this thing so much that he's ripped larger holes, which creates a lot of hay waste and quite a mess. So I decided it was time to invest in an upgraded net.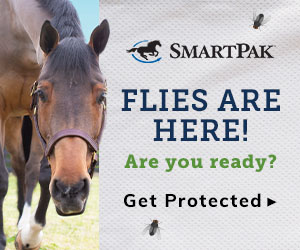 I knew I needed something heavy duty. The Slow Feed Hay Bag from SmartPak caught my eye.
SmartPak's hay bag comfortably fits up to 10-to-15 pounds of hay, more than enough for my horse on any daily trailer trip to the vet office or a horse show. But what interested me about this hay bag was the innovative features that you just don't get with those traditional twine-type nets I mentioned before.
The slow feed hay bag has a flexible "gator mouth" which holds it shape. Velcro pieces hold the top of the bag closed, but when it's time to load more hay, it stays fastened open, which is a God send when it's time to stuff many flakes in there. Also with this bag, gone are the days of tying it to the trailer. The bag has its own hook and loop closure, which is easy to hang and also a great deterrent for even the most naughty horse who wants to pry the bag open.
And when SmartPak says slow feed, they mean it. The smaller holes means my horse can't eat the entire bag full in just a half-a-trip. He's pulling hay out of it all day or all night. It's a perfect choice for anyone who needs to slow down easy keepers or keep stall-bound horses entertained. For my horse who is prone to ulcers, I like the idea of having forage in front of him for longer periods of time, thanks to this slow feed bag.
But most importantly, the material is heavy duty. The bag is made of thick material. It feels heavy enough when it's empty. The material is also easy to clean – you can easily wash it down with the hose and some mild soap and leave it out to hang dry. When it's not in use, I can easily fold it up and keep it stocked away in my trailer for the next time. It also comes in a variety of colors and sizes.
For the price point, this bag is a great value. I see it lasting me a long, long time.
For more information, visit smartpakequine.com.
Pros
Heavy duty
Comes in a variety of colors/sizes
Affordable
Justine Griffin