It's not like other horse shows. For a start I arrive by public transport, and I'm surrounded by fellow equestrians. They are easy to spot amid the harassed commuters and exhausted Christmas shoppers, mostly because they wear things like tweed coats, fur head bands and Dubarry boots even though it's central London and there isn't a spot of mud to be seen.
It's the only time of year you'll hear words like martingale and lungeing and crank noseband bandied around on a train running through the capital city, while all the non-equestrians listen in complete bemusement. Then when the train pulls in to Kensington Olympia station, everyone files out en masse, show tickets in hand, desperate to grab a shopping bargain or get to their ringside seats. Welcome to the London International Horse Show – or Olympia, as everyone calls it.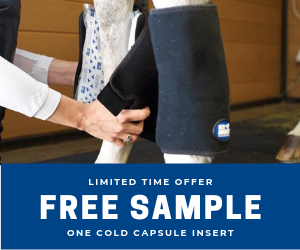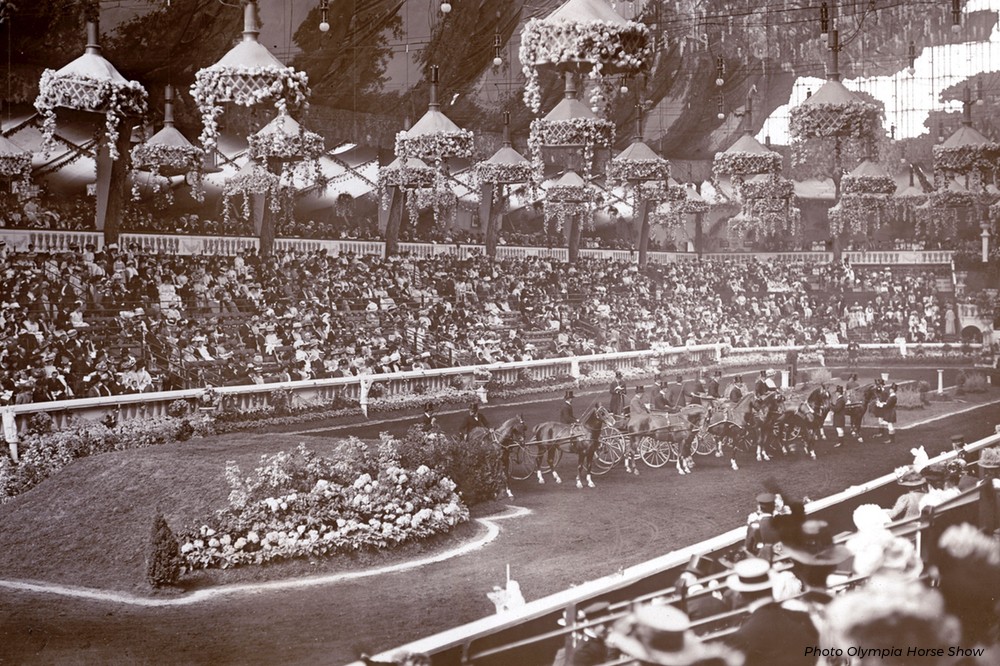 This is Britain's most glamorous indoor arena, a vast glass-roofed exhibition centre for most of the year until this week in December when it suddenly becomes home to the horse world's Christmas party. The show is earlier this year, usually running from Tuesday to Monday the week before Christmas, but because Christmas falls on a Monday it's been moved back a week. Because I aim to have all my festive shopping done and the decorations up before the start of the show, for once I'm organised ridiculously early.
But as everyone who attends this show will tell you, it just doesn't feel like Christmas until the start of Olympia. From the fake snow at the main entrance to the Christmas trees everywhere, this show screams festive season. Christmas music booms out round the arena, relentlessly cheerful, and even the grumpiest of riders are in a good mood. Olympia used to mark the end of the season for many British riders – now plenty of the showjumpers will be going straight to Mechelen on Boxing Day and spending New Year competing in Liverpool – but even so, there's a glorious 'end of term' feeling.
It's the show I remember most from my childhood, watching on television and dreaming of riding in the Christmas finale, racing in the Shetland Pony Grand National or jumping the huge red Puissance wall. And every year I tell myself that I am so lucky to be there working, that my job involves attending the show, going backstage and interviewing winning riders. Even after six days in a row, when I've seen the Christmas Finale a dozen times and I'm threatening to scream if I hear 'All I want for Christmas' ever again, when I've caught 'Olympia flu' from my press room colleagues, when I get stuck amid the crowds in the shopping area or am getting resentful walking past all the black-tie revellers in private boxes as I rush back to file copy – even then, there is always something extra special about this show.
This year, with a small baby at home, I'm only at Olympia for one day instead of my customary six. My visit starts with the British Equestrian Writers Association annual lunch, when I get to catch up with my media colleagues and we all exclaim how we can't believe it's Olympia time of year already, as we do every year. The lunch is held at the Hilton, just round the corner from the show, which is the hotel where all the riders stay (and party afterwards). As we walk out after lunch, Michael Whitaker, Ben Maher and Scott Brash all wander back in, still in their white breeches, getting curious looks from the non-rider residents. This show is an autograph hunter's (or selfie snapper's – the modern equivalent) dream.
Then it's into the show and the sharp smell of sawdust that hits you as you walk in from the cold London street. It's all so familiar and yet no less special for it – the crowded shops, the vast fences in the relatively small brightly lit-arena, the Santa hats in the audience, the feeling of revelry. After an initial two days of evening-only dressage, it falls into a regular pattern of two sessions per day, with a mix of international showjumping, occasional carriage driving and showing classes, dog agility, the Shetland Grand National plus the displays. This year's displays are the ever-popular Metropolitan Police Activity Ride – where the horses jump through fire and the mounted policemen and women jump over a line of jumps while holding their saddles over their head, and the Chilean Huasos, who show off their cowboy skills, which at first glance seems to be mainly cantering sideways, picking up women and wearing eye-wateringly large spurs.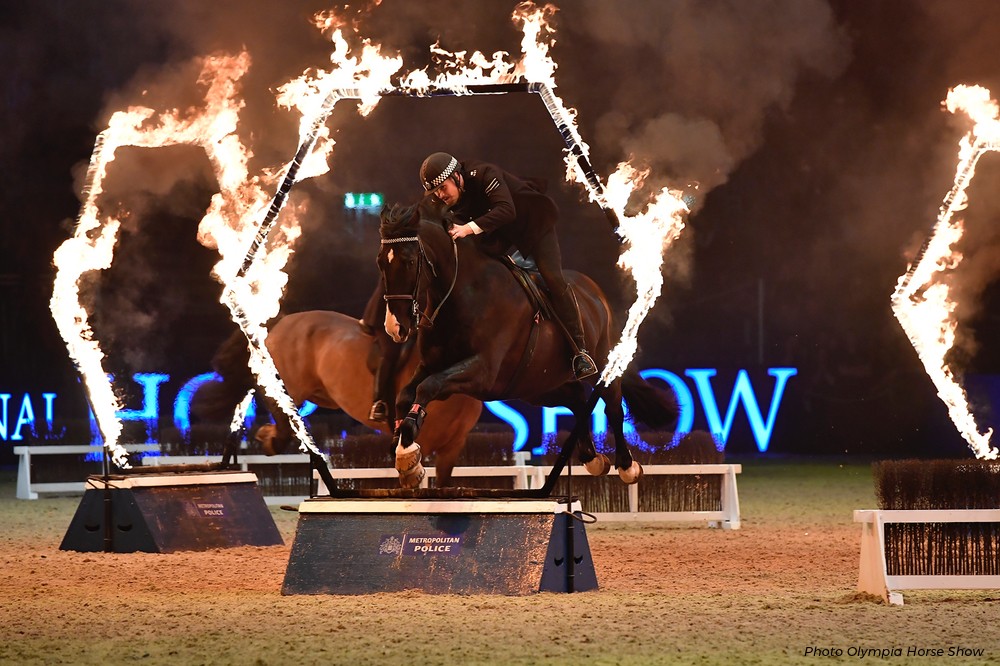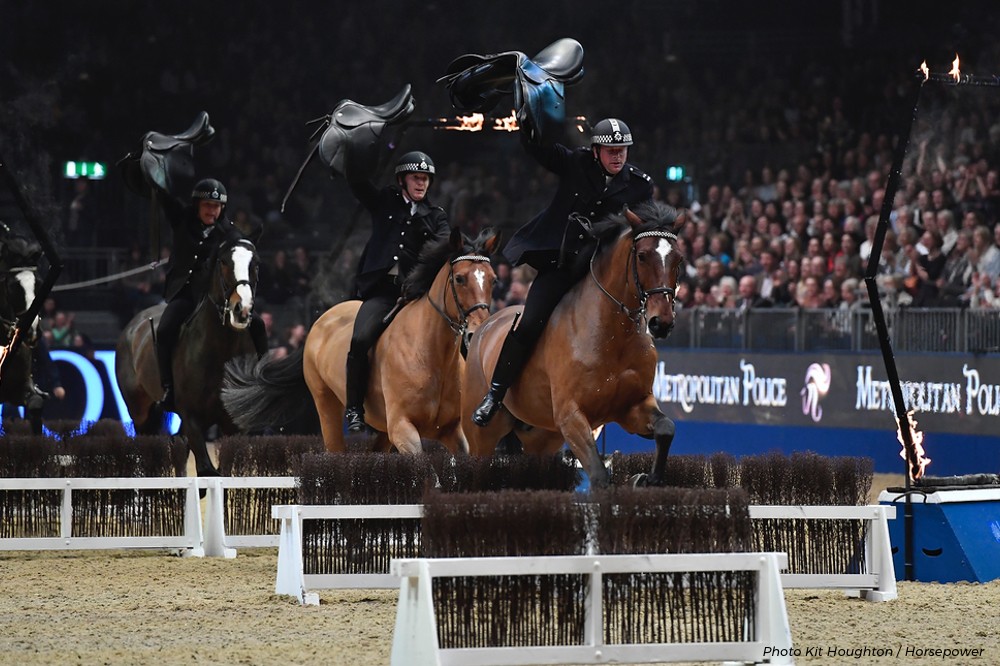 The displays vary each year but the format barely changes, and that is part of the show's huge appeal. It's nearly always a sellout, not just because of the great equestrian action, the huge shopping village and the opportunity to get so close to the equine stars you can almost touch them. There is just that certain festive magic here. Every session concludes with the Christmas Finale, a slightly bizarre mix of theatrics, horses and fake snow, and it always ends with a visit from Father Christmas himself in a horse-drawn carriage. As the familiar strains of 'The First Noel' echo round under that great glass roof, and thousands of little girls fall irrevocably in love with the sport, it truly does finally feel like Christmas time.
Merry Christmas, everyone.