Each month Heels Down Magazine sets out to enlighten, empower, and inspire the next generation of equestrians. From gritty interviews to fashion spreads with the latest trends, riding exercises, bold editorials,  grooming advice and even some dating tips, Heels Down Magazine has something for everyone.
Download the Heels Down Magazine app in the iTunes AppStore: http://apple.co/1QicprS or Google Play for Android phones and tablets: http://bit.ly/1sXQV75. Subscribe today to get your first issue free.
Edward Ewbank is a CCI*** event rider from Auckland, NZ, who is based in Middleburg, Va.
Nate Chambers is a CCI*** event rider from Middleburg, Va. Nate has transitioned from the life of a professional eventer to enjoying life as a banker. He plays polo in his free time.
Tim Daudelin is a first officer for a major corporate airline. He has an MBA from Michigan State University. In addition to his job as a pilot, Tim has worked with numerous airline unions to assist with the litigation and contractual negotiations for company mergers, employee benefits and other organizational operations. He's also the father of a lifelong equestrian.
When Nate Chambers was a young and hopeful event rider still trying to establish himself as a professional, he struggled to get the training he needed. It all came down to money, which he didn't have, so he learned pretty quick how to be a good negotiator.
"I didn't have enough money to keep taking lessons and get the coaching I needed," said Chambers, who competed at the CCI*** level before transitioning out of riding to become a banker in Middleburg, Va. "But I did have a six-horse rig."
Chambers was able to negotiate a trade with his coach. He made two trips a month from Virginia to Florida to pick up and drop off horses. In return, he got the lessons he needed.
"In the long run, it worked out great. It allowed me to train for the whole winter," Chambers said. "It was a win-win. We were both getting what we needed."
Negotiation skills would help him develop his career as a professional rider and later as a banker. From selling horses, to buying a car, to negotiating the details of a sponsorship deal, these skills translate well into the horse world and daily life.
"If you recognize it or not, you are negotiating in some way almost every day in most jobs," said Tim Daudelin, first officer for a major corporate airline. "Whether it be convincing your trainer that you are really ready to move up, getting your fellow boarder to muck your stall or walk your horse after an event while you prep for your next ride, or negotiating with your parents to bankroll that 'sure thing prospect', you are always negotiating."
Heels Down Magazine asked these expert negotiators for advice on how to be successful. Here's what they said.
Be Confident
Confidence in yourself, your horse, and your ability is key. Know your worth and know the lowest you're willing to go for any specific deal. Be firm on your limits. Confidence is important when you're trying to sell yourself, your expertise, or a product or service that you're passionate about. "You never want to negotiate from a position of weakness," Chambers said.
Know the Terms
Know the numbers. Knowing your bottom line is crucial. "When I'm selling a horse, I know exactly what I have in it or what it needs to bring back," said Edward Ewbank, a CCI*** event rider from Auckland, New Zealand. "If you don't know everything about what you're selling, you could lose money."
Be Patient
Don't rush into a deal. Even if you're in a position of strength, remember to take your time to consider all your options. "People often fold too easily or give away their answer too quickly because they're worried," Chambers said.
Also, ask for more if you believe it's worth it. "The worst they're going to say is 'no,'" Ewbank added.
Have Clear Expectations
Be realistic about the expectations of what you have, whether it's your own ability, your horse's ability or your brand. Go into every negotiation willing to walk away if you realize that you're not working with the right person, or that you are potentially going to be involved in a deal that doesn't have your best interests at heart. "If you're talking to someone who thinks their product is more valuable than it actually is and they're not willing to negotiate, it's okay to walk away," Chambers said.
Be Willing to Compromise
It's all about finding a good fit for both parties. "I've learned that you can sell a horse for too much and have it go to the wrong home, or sell it for too cheap and have it go to the perfect home," Ewbank said.
Sometimes compromise is a good thing if everyone benefits. "If you know that a horse is going to a good home even if they don't hit the number, sometimes that's okay." That said, don't regressively bargain, Daudelin said. "Once you agree to something, move on and do not try to reopen or get more out of the items you have considered closed," he said.
Remember these tips the next time you find yourself in a situation worth negotiating. Good luck!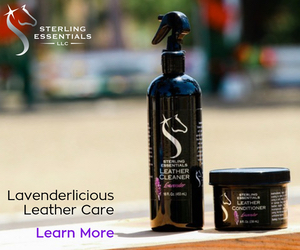 Read more articles like this in the March issue of Heels Down Magazine. 
Download the Heels Down Magazine app in the iTunes AppStore: http://apple.co/1QicprS or Google Play for Android phones and tablets: http://bit.ly/1sXQV75.