Every year, the "52 Thoroughbreds need homes" post bubbles up like clockwork. Most horse people rarely fall for the outdated cry for help on social media anymore, even if non-horsey family members and friends continue to keep it circulating year after year.
But few out there have ever met any of the original Thoroughbreds from the Ohio breeding operation who did indeed, need homes.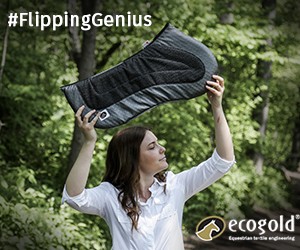 Kathryn Trimble owns one.
Her 16-year-old grey thoroughbred mare, Mayzie, or Hot Grey Momma, as she was known on the track, was one of the "original 52".
"I guess that's her claim to fame now," said Kathryn, who is the executive director of Trinity Farm, a therapeutic riding facility that specializes in riding lessons for veterans and others with special needs, in Streetsboro, Ohio.

"People know the breed as sensitive and responsive, which is actually just what we wanted. We try to choose horses based on their personalities."
Kathryn met Mayzie in 2012, just a year after the breeding farm dispersed the 52 horses, when she went to go look at a pony for sale. The pony ended up not being suitable for her riding program, but a curious grey mare in the barn caught her eye.
"She was so smart and interested in us. She was watching us the whole time," Kathryn recalled.
Read This Next: What To Expect If You Want To Go To the RRP Thoroughbred Makeover
After working at Trinity Farm for years, Kathryn developed a keen eye for horses that could excel in their inclusion program. The horses at Trinity Farm teach people with special needs about grooming and horsemanship from the ground, and also in the saddle. But Trinity is unique in that some of their riders who are interested in competing in the Special Olympics will jump and even event.
"We want horses that really enjoy their jobs, that want to engage with us," Kathryn described. But above all, she said they "must like people."
So they decided to give Mayzie a try, who was nine at the time. Kathryn admitted that Mayzie was greener than the usual horse they typically take on.
"But there was something about her," she said. "So we gambled on her."
Kathryn is still glad she did. It didn't take long for Mayzie to thrive in their program.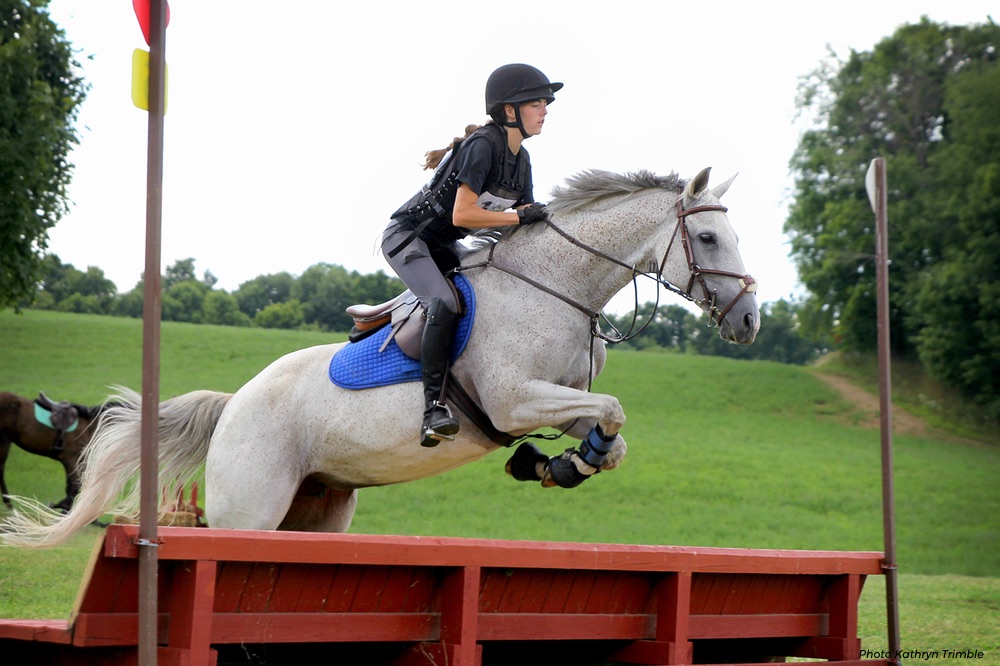 "She was never afraid of any of the therapy tools we use, like hula hoops, bean bags and bouncing balls," Kathryn said. "She took everything we asked of her in stride."
Mayzie does require a more advanced rider under saddle, but is calm and kind to just about anyone who handles her on the ground. She also events with some the Special Olympics riders at Trinity Farm.
"I think the moral of this story is not to judge a book by its cover," Kathryn said. "People know the breed as sensitive and responsive, which is actually just what we wanted. We try to choose horses based on their personalities."
Kathryn admits it was probably a year or a year-and-half after they brought Mayzie home that they realized she was one of the original 52. The mare had been pregnant at the time of the 2011 ad, and mothered a colt who lived at the farm where Kathryn first met her.
Like This Story? Try: Bold Jumper For Dirt Cheap – A Cinderella OTTB Story
"It's funny, because at the time of the ad we called the farm to see if they had any barn accessories or tools they could donate to our program," Kathryn said of the original Thoroughbred breeding farm.
Kathryn keeps up with the owners of the other original 52 Thoroughbreds in a group on Facebook. Some have become beloved pasture pets, while plenty others have gone on to have rewarding second careers like Mayzie.
"We'd never thought anything else would come of it," she said. "But now we have Mayzie."