Max Corcoran has groomed internationally at the highest levels of equestrian sport for nearly two decades. She worked for the O'Connor Event Team for 11 years and has served at multiple Olympic Games, World Championships, Pan American Games and countless CCIs across the U.S. and Europe. She now lives in Ocala, Fla., with her partner Scott Keach, who competes Grand Prix show jumpers.
During the Heels Down Magazine 5* Rolex Experience, an auditor asked about off-the-track Thoroughbreds in eventing, when they have had a full racing career before transitioning to their new jobs.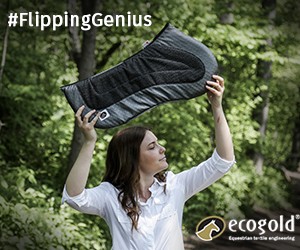 "Those (races) count as miles on the horse. Hopefully when they come off the track when they're young, they've had enough time to let down for things (like injuries) to set up and get quiet and cold – when they're young they're still growing and developing. Hopefully as they're growing up, you have one that's pretty sound. If you have one that's half gimpy and you try to event it, it gets a little risky.
That's a big deal because people go to the track and (sellers) may say 'Well, it's done a leg, or it has a chip in its ankle but it should be fine to event.' Well, it might be fine to the preliminary level but then you'll struggle to keep it sound no matter how much icing you do. That's a road that a lot of people go down then learn the hard way. I've seen that happen a lot. They say, 'You can take this bone chip out if you need.' Well that's another $12,000. There's no guarantee. You don't know how much damage has been done to the joint."