Max Corcoran has groomed internationally at the highest levels of equestrian sport for nearly two decades, so she has more than a few tricks up her sleeve when it comes to keeping horses feeling their best.
Pain and soreness in the stifles, Sacroiliac region and back is common in equine athletes and is often a result of the physical demand of the job. As long as there's not an injury, regular soreness is likely to happen just as it does in human athletes. Even though it's common, it shouldn't be ignored, and Max explained to us a few of the treatments she's tried over the years to help manage soreness in her horses: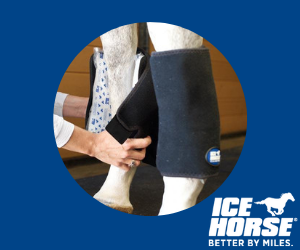 "There's so much stuff that's out there to help you treat those problems. Acupuncture is awesome. Some horses hate it, some horses love it. The horses that love it, absolutely love it. 
Massage is amazing, and chiropractic work to an extent is fantastic.
The Back On Track blankets are amazing. They keep the horse so warm and theirs their muscles loose.
FES – functional electronic stimulus – is amazing. It's a blanket and it goes on the horse's back and it makes the horse's muscles contract and release. It builds and heals the muscle at the cellular level and makes them healthy.
I try and read everything. I'm fascinated with how we can make horses better."