Max Corcoran has groomed internationally at the highest levels of equestrian sport for nearly two decades. She worked for the O'Connor Event Team for 11 years and has served at multiple Olympic Games, World Championships, Pan American Games and countless CCIs across the U.S. and Europe. She now lives in Ocala, Fla., with her partner Scott Keach, who competes Grand Prix show jumpers.
We wanted to know what common mistakes Max sees at three-day events, and specifically how she handles the end of cross-country.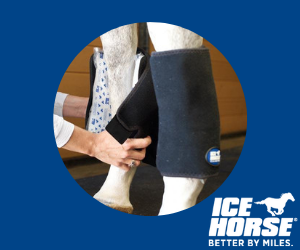 "In the (cross-country) finish area of a three-day, I see a lot of people getting water on their horses but not scraping it off. That water has to come off almost as quickly as it comes on. You need to have enough people to help you.
At the Ocala Jockey Club (Three-Day Event) people were standing there and not really hustling. They spent over 25 minutes cooling their horses off and chatting with their friends and taking selfies instead of taking care of their horse. Get in there and take care of your horses. It's your responsibility. These horses have busted their butt for you, you need to help them out.
That's one of the big things, being prepared and being ready to look out for your horses at the finish area. Even at a horse trials, if you're going to go cross country, know where you're going and plan ahead for water for your horse. If you have everything super organized it makes it a lot easier and less stressful. I get a big trash can and fill it up with water the night before. Then I always have water to wash them off.
I always like to get my horse's studs off before I get their boots off. I've seen horses kick themselves and puncture their leg. That's a big deal.
Another thing that drives me nuts is when I see people giving baths and they spray their horse in the face and the horses are angry and mad. It takes 2 seconds to get a sponge or a damp rag and wash your horse's face. It makes them head shy and then they become hard to bridle."