Kelli Cruciotti: Riding the Tense Horse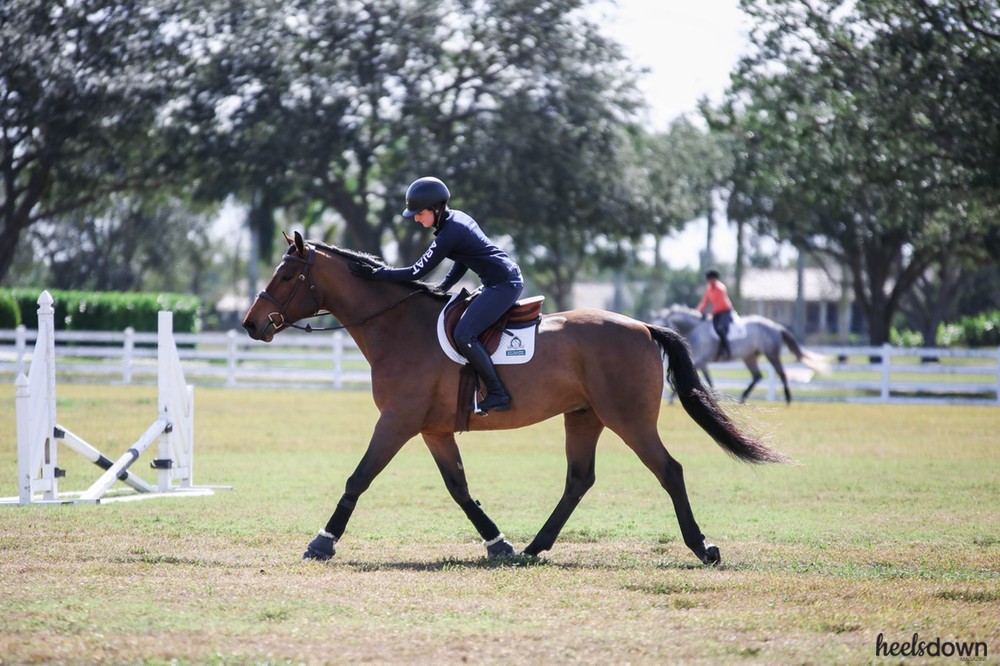 Grand Prix Show Jumper Kelli Cruciotti offers her advice on riding tense or anxious horses.
Most horses I enjoy are quite hot, but with hot, they can also be quite nervous. I had a horse about two years ago that was hot, on the muscle all the time – you couldn't get him to take a deep breath. I just got on in the morning and just camped out on him all day. He would hack around, flat him for 10 or 15 minutes, let him graze, and mix it up so it didn't feel like when I got on, he was showing. We tried to make it similar to what he would be doing at home instead of 'it's time to show' when you get on. The more we did that, the more relaxed he was because he really didn't know when he was showing. It was similar to his program at home.
Some horses go off the property and they know they're at a show. They feel the energy and the excitement. You can't just get on and ride and drill them for two hours. You have to make it interesting for them. Make it enjoyable and once they start loving it and looking forward to it, they start to let go of that anxiety.
A Hot Horse Is An Emotional Horse
Most of the time, I really believe it's anxiety and not just being 'hot'. I think horses are very pleasing animals and they want to take care of you. So when they feel like they're letting you down, they worry. If you have a bad distance, even if you're not mad at them, it translates in your body language.
The horses have to have the same confidence as the rider.
If I have a rail down, the horse doesn't know that I'm mad at myself. So they feel that I'm not happy and I think it's hard for them. I always have to catch myself and make sure I stay the same and stay positive, because it's just as important for their ego as it is for mine.
Read this next: Fixing a Dirty Stopper
A big philosophy in our program is that we try to make them feel like winners. The horses have to have the same confidence as the rider. If we have a horse that has a bad reputation, even if they're good and they get an 8th place, we put the ribbon on their bridle and take a picture. They start to feel like winners and superstars and then they want to try even harder for you. They want to please you, so we try to do that a lot.
How To Calm A Tense Horse
As far as calming aids, I think everything in moderation is helpful. We stick with products like Cavalor, which is all suitable for FEI Clean Sport and all natural. Used in moderation, they are not harmful but it depends on the horse. (With) some horses, the supplements are very helpful. Others don't react. I think it's more of a last resort. I think there are a lot of things you can try before you get to that.
At home too, all of my jumpers and some of the hunters and equitation horses have a really customized schedule. It's really different and diverse – they go for gallops, trail rides, do dressage… I feel like that takes the anxiety away since they don't have that anticipation and don't know what's coming, they don't feel the pressure to perform.