Getting ready for a horse show can be a daunting task. Are you ready? Is your horse? Are you familiar with all the rules, and do you have the right supplies? And so many other things.
It's even more complicated when you're a nervous adult amateur like me who can't even on a daily basis. Not only do you have to make sure that you're physically ready, but you have to make sure you're mentally ready too. But don't fret. I have the perfect step-by-step guide to planning for a show. Buckle up.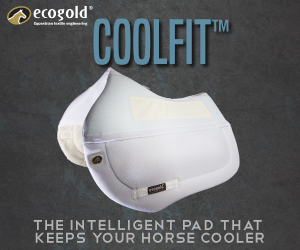 1. After your trainer suggests going to a show, cry spontaneously and/or vomit. If this is then followed by a faint smile, you're ready.
2. Spend the next week trying to create a way out. Common ways are injuries – real or fake – or claiming low funds. Too bad you just bragged about your bonus, so your trainer knows that's a fakeout.
3. Resolve yourself to going. Stare at the entry form with a bottle of wine by your side, texting your barn BFF every ten minutes. Consider entering a division lower. Your trainer has lots of clients, right? Maybe you can sneak by.
4. Enter the correct division after all. Refill Xanax prescription.
5. Order new show outfit. If nerves get the best of you, at least you'll look damn good doing it. Plus, new stuff.
6. Spend the next few weeks alternating between being excited by the prospect of showing and wondering if you can seek asylum in another country. This has to be a qualifying event for it.
7. The week of the show, make a checklist of all needed gear and pack your show trunk. Assess if you could fit your trainer in the trunk and lock her in it if you really need to jam and leave.
8. Pack all of your clothes. Make sure you have dark colors, because you're inevitably going to spill all your wine you need to drink in the evenings for consolation.
9. Consider getting a stronger Xanax prescription.
10. Have your last lesson before leaving for the show. Break down in tears when your trainer makes you do a confidence-building exercise to show you how much you're actually capable of. Then rock it.
11. Maybe now you've realized you can do this. It's all mental!
12. Leave for the show, feeling hopeful. Arrive.
13. OH MY GOD I CAN'T DO THIS.
14. OK, yes I can.
15. YOU LIE.
16. Wake up, groom your horse and get ready. Walk course/go over test, etc. Have a cry and/or panic attack. Let your barnmates calm you down without your trainer seeing.
17. Consider scratching. Weigh your consequences of potentially dying in the ring versus upsetting your trainer. Potential death is better.
18. Give your phone and water to your friend, with strict instructions to immediately delete the video of your round if it sucks. Ignore her eye rolling and words of encouragement.
19. Go warm up. Be meek until your trainer yells at you, and then get that fire in your belly. YOU CAN DO THIS.
20. Enter ring. I CAN'T DO THIS.
21. Watch the gate shut. You have no choice, so get on with it. Head to the first jump.
22. AAAAAAAAAAAAAAH.
23. Keep going. Consider pulling up when things get inevitably ugly.
24. Be surprised at everything going well. Finish your round.
25. OH MY GOD I LOVE MY PONY.
26. Smile at your trainer, laugh like a hyena and tell her that was fun.
27. Listen to her say there's a show next month you should now do since this went so well, and maybe consider moving up.
28. Go ahead and lock her in the trunk.
29. Keep laughing like a hyena.