Boyfriends And Horse Shows Don't Always Mix

I am a horrible horse shower. I stress myself out and say things I don't mean, whether it be out of anxiety, fear or anger. It takes a special kind of person to deal with me during those moments.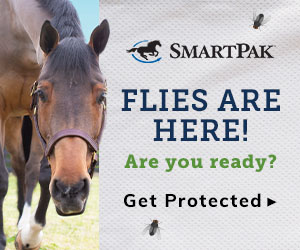 When I was growing up and showing the A circuit every weekend, my trainers sat my mother and I down before a horse show and told us that they were implementing a "50-foot rule" so that I would not say nasty things to my mom and so my mom wouldn't stress me out even more when she reprimanded me for being a horrible and ungrateful child. (Spoiler alert: I was.) The rule worked for years.
Unfortunately for my longtime boyfriend, Matt did not have such a rule in place when I invited him for a week of "horse show fun" at the Vermont Summer Festival a few years back.
I had been good all week, no major outburst of any kind. In any case, on Wednesday I had an amazing round on my jumper. We were so in sync and I was just so proud of him. Then the next day I find out that we actually placed in the class—third out of over 60 horses! I never show for ribbons anymore (only for a perfect picture of my horse), so this was a great surprise and I was happy for us as a team.
Our last class of the show was that Friday, I was a little cocky (tasting victory from a far does that to me) and wanted to try to win this time. But I was also crazy nervous. It was my very last ride as a junior, and my last show before I had to go back to college. I wanted to make it memorable. Coming up to our very first jump, a large oxer on the center line, I completely fudge my approach and drop my horse right at the base. He stopped (because he has self-preservation and I was acting like a drunk pilot). That was not the kind of 'memorable' I was hoping for. The rest of the course was OK, no other faults, but I came out of the ring so angry at myself and when my boyfriend came up and said, "Great job, Ellie!" I snapped at him.
"What are you talking about?" I shouted. "It was HORRIBLE. What the heck were you watching?"
He was silent as I untacked my horse in a huff and went over to bathe him. My friend told me a few weeks later that she saw my boyfriend sitting in the tack room cleaning my horse's boots. She asked him what he was doing there to which he said, "Ellie yelled at me, so I'm just going to clean these boots."
I apologized profusely after I had bathed my horse and realized how rude I was to him. And since Matt is the nicest person on the planet, he accepted my apology. But it wasn't until my friend told me about him cleaning my horse's boots off even after I had treated him so badly, that I realized not only is my boyfriend kind and helpful, he is also the best groom. Not only were my horse's boots the cleanest they had probably ever been, he just let my disgusting behavior roll right off his shoulders.
I told him after I found out that the best horse show boyfriend award should go to him. And that I would get it engraved to say, "Thanks for putting up with my crap and you don't ever have to come to a horse show again."