I have a dear friend who, after every ride, would blow dry her bangs using a hair dryer she stowed in the barn bathroom.
"Going somewhere?" I asked her the first time I saw her do it. It was 7 p.m. on a Monday. She looked lovely. I patted my own hair, which was splattered to my head and soaked.
"No, just home!" She replied cheerily.
I watched her leave, marveling at her commitment. It was her little routine, and in reality, it only took about twenty seconds to do. I wish it inspired me to do the same, but alas I am just too lazy. I can't even remember the last time I used a blow dryer (prom?).
Helmet head is a much-discussed issue in the equestrian community. Hair doesn't just get sweaty under a helmet – it sort of acts as a personal oven for your locks. Frizz city.
Buns and baseball caps are the typical way to go, and some creative brands have even gone so far as to create hats emblazoned with "helmet hair don't care." Own it, sister.
These solutions are perfect for course walks and barn chores, but what if you're going straight out to dinner and drinks? I would suggest a unique chapeau or a silk scarf tied around your head. Interestingly, both options look quite elegant with riding gear.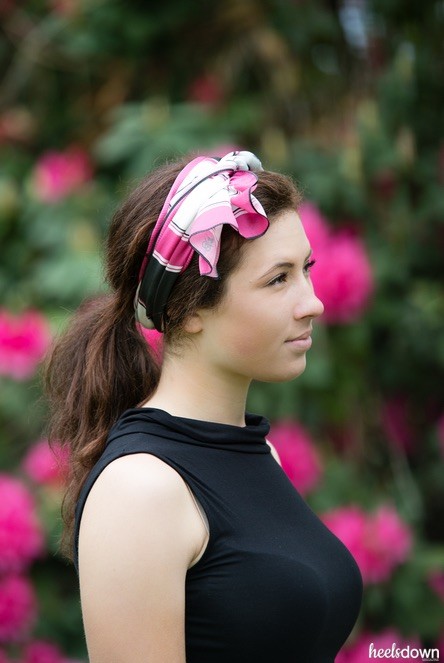 This beautiful printed scarf by Donna B effectively covers most of the hair that gets the grossest under your helmet. 
Swapping your boots for some ballet flats, spritzing a little perfume (or a lot, depending on how sweaty you got), and popping the collar on your polo instantly transforms you from stinky mess to alluring Frenchwoman with an authentique dusting of dirt on her outfit.
What's that I hear you say? You don't want to wreck a nice scarf with your icky hair? Silk is surprisingly hardy, and hand washes well. These ones, printed with unique artwork by the painter Donna B, are particularly lovely and have horses dancing around on them. If you'd like to start on a budget just to try it out, head over to the thrift store – many an old granny has donated their pretty little scarves, which you can snap up for a couple dollars. Simply fold it into a long strip and tie either with the knot at the front or back.
Read about the trendiness of boot socks and breeches in our August issue.
How to pick a beautiful hat? For myself, I chose one in a rich chestnut brown, which goes with riding apparel just as well as a chestnut horse would. I showed up at the barn in it last week, and a friend smiled and shook her head at me.
"You would show up in a fancy hat." She said. I guess I have a reputation now.
I tipped the brim at her. "It's terribly practical, actually," I replied, "It hides my helmet hair perfectly."
---
Main photo: Shelby Dennis wears a Spiced Equestrian tee, Asmar breeches and Coach House belt.
Second photo: Donna B scarf and Street & Saddle top.