Home » Helmet Fitting 101: How To Find The Perfect Size
Helmet Fitting 101: How To Find The Perfect Size

Buying a helmet is easy. Just order it online and voilà. Except, not.
Aside from a saddle, buying a riding helmet might be the hardest piece of riding equipment to find the right fit.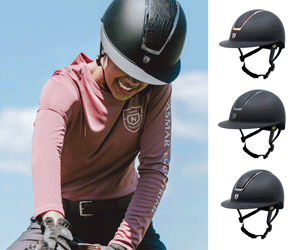 A correct fitting helmet isn't only important for safety reasons, it's also for your comfort. A helmet that is too snug can cause pressure headaches and leave behind red lines on your forehead. One that's too loose won't properly protect your noggin when you need it most.
"Being open-minded is really important. All helmets are shaped differently and some may fit on your head, and some may not," explained Jillian Larkin, an assistant store manager at the SmartPak store in Natick, Mass. "Even though you may want a specific helmet, it's important to understand that it just may not fit you correctly or safely."
Heels Down Mag spoke with Jillian the helmet fitting expert to come up with these tips and tricks on how to find the right melon container for your precious brain cargo.
Do your homework.
Unfortunately, buying a helmet requires some leg work in the beginning. Do you know your size? Size can vary depending on the type of helmet and brand you're buying so it really helps to actually know your true head circumference. Get a soft measuring tape, recruit a friend, and wrap it around your head, said Jillian. You'll want to make sure the tape is about a finger's width or so above your eyebrows and ears. You may want to measure a couple of times to make sure you're getting the same number. Write down the measurement in both centimeters and inches, because again, every brand measures a little differently.
"Most helmet companies measure in centimeters, so you can utilize the measurement of the circumference of your head and match it up with a size on that helmet brand's size chart," described Jillian. "Sizing charts will be your best friend."
You've also got to figure out if your head is more round (fairly even all around) or oval shaped (longer front-to-back and narrower from side-to-side). No judgement here – all our lumpy head shapes are unique!
Try some on.
Now that you're armed with some solid info about the size and shape of your head, you're ready to shop. Some retailers offer free shipping and returns (like SmartPak!) so you can order and test out different brands right from home. Another option is your local tack store of the tack trailer at a horse show where you can try on a few and get a feel for what you like.
"There are a lot of factors to consider: technology, aesthetics, and how much you are willing to spend," Jillian said. "Also, a lot of the time trainers have certain preferences."
Be mindful of how you wear your hair when you ride. Despite longstanding traditional norms of pulling long hair up into your helmet, most manufacturers do not recommend this, as it affects the proper fit of the helmet (i.e., it's dangerous).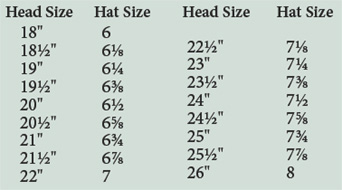 But there have been some adjustments made to helmets over the years that can more easily accommodate putting hair up inside.
See Also

Home » Helmet Fitting 101: How To Find The Perfect Size
"Most of the time you can find a helmet that can accommodate both (hair up and down), but there are definitely times when the sizing is too drastically different to allow for a safe fit," Jillian explained. "Nowadays, there are a few tricks of the trade that your local tack shop can help you with, like helmets with a dial system or adjusting liner sizes to find you that perfect fit."
Ask yourself these questions:
Is it tight on your forehead or at the back of your head? Then it probably doesn't fit. Jillian says this is often the case when someone with an oval-shaped head is trying to stuff it into a round helmet. How about tightness near the temples? Then you might be doing the same thing vice-versa – try a round helmet instead of the oval.
Is it stuck? As in, does the helmet feel like it's not coming down around your head? Then it's probably too small, or at least not deep enough to cover your head. On the other side of the coin, if the helmet is falling down over your eyebrows or pinching on your ears, it's probably too roomy for your head.
"(Don't) get caught up with what everyone else is wearing – go with the helmet that fits your head the best," Jillian said. "Another common issue is to not fall for the helmet that feels super soft and comfortable against your head initially. A lot of helmets have nice soft padding and while the helmet may fit now, the padding will compress over time which could make the helmet too big. If the helmet you like has a lot of padding in it, chances are sizing down to one size snugger will keep your helmet fitting well in the weeks to come."
A properly fitting helmet should feel snug around your head, but not brain-squishing tight. It shouldn't fall forward or back when you move your head.