For any up and coming professional rider, or anyone who aspires to one day be a professional rider, it can be a daunting task to try to market yourself to potential sponsors, owners or other supporters. Most pros will tell you that they're not the best at selling themselves. In the age of social media ambassadors, GoFundMe accounts and a saturated market full of hungry riders who want to be noticed, how do you stand out in the crowd? We spoke with event rider Allison Springer to get her take.
Springer obtained her college degree before tackling the professional riding world. "I finished college and could have gone on and gotten a 'real' job after, but I knew that if I didn't pursue my dreams right then when I was young and able, I'd regret it," she said. "I started getting support and owners after years of being dedicated to the sport. I have never been good at selling myself, and I also don't feel that it's all about that concept."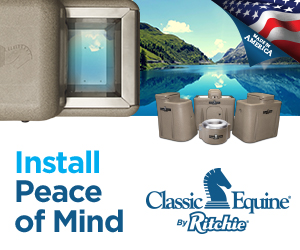 For many years, Springer has been a vocal champion of the sport of eventing, joining multiple committees for the USEA and USET, and promoting causes that were important to her. In 2010, she ditched the traditional top hat worn in dressage for a helmet, one of the first riders to do so, kicking off a safety trend that has seen monumental growth, particularly in the U.S. Due to her dedication to giving back to the sport and getting behind important causes, Springer began to collect sponsorships and support from those who noticed her efforts.
"You have to dedicate so much to your goal but there are many other people out there doing the same thing, so what is going to make you stand out?" she asked. "I did the things that were important to me, and I did not intend for it to be a marketing ploy, but I was able to get support based on that. And the sponsors and owners who back me have been in my corner for many years and I respect them and our relationship. You see too many people out there taking 'sponsorships' from any and everyone, and I think there is some integrity to be had as well."
For Springer, her journey has been all about the process. As a younger rider new to the professional scene, she galloped racehorses in the mornings and waited tables in the evenings to make ends meet, juggling multiple jobs to support her passion for eventing. "I worked as hard as I could to make it happen," she said. "The sponsors I had now are relationships I built over the years."
So what is Springer's best advice for standing out in a crowd? "Work hard, build relationships. I think you can tell a difference between those that expect things and those that are willing to do what it takes. Nothing is beneath you when you're trying to make it in this world, and you have to be willing to put in that time to make it happen."