Equipment Equestrians Can Borrow From Other Sports

Horses require a lot of stuff. From grooming to nutrition management, to riding and fitness, the list, it seems, is never ending on the things you need to buy to keep up.
The cost can be pretty hefty, too. Shampoo designed with horses in mind can cost twice as much as the shampoo you'd find at the grocery or drug store. A leather hole punch – a great tool to keep in your tack trunk – similarly can spike in cost when an equestrian company slaps its name on it compared to the generic one you can pick up in the hardware store.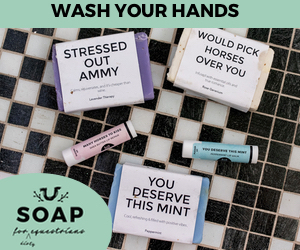 In an effort to get creative about saving money, Heels Down Mag staff put their heads together to list some of their favorite pieces of equipment borrowed from other sports that are still useful in the barn or at horse shows.
Golf Towels.
Perfect for your ringside grooming kit. These soft, but high-quality towels which golfers use on course often come with a clasp or ring at the end, which is super convenient. You can attach the towel to your grooming bag or brush box and feel good knowing you'll never leave it behind. Bonus: they're usually customizable.
Body Glide.
It's an anti-chaffing, moisturizing balm developed for athletes from hardcore cyclists to marathon runners. If you've ever chaffed while riding a bike for long distances, you know this stuff is a life saver. It works well for rubbing sores in the saddle, too.
Sun Protection.
Moisture-wicking sun shirts have already made their way into equestrian shopping catalogs, but they've been popular in other sports for quite a while. These UV-protection fabrics were big in water sports like fishing for years before they came into the barn. Now you'll find them in the tennis and golf sections as well at your local sporting goods store. The good news is you're bound to find a good deal with all of these options. Another good tip is to follow the sunglass brands that target fishermen. They're heavy duty, and can handle the dirt, dust and general risk that comes with being in a horse barn.
Clickers.
Dog trainers often use clickers as way to train their competitive dogs for shows. If you're into groundwork and natural horsemanship, there are some "clicker training" programs that apply to horses, too. You might find a better deal shopping for a dog-branded clicker on Amazon than opting for the horse-branded one.
Compression sleeves.
Many of us already use compression sleeves or socks on our horses' legs to help alleviate swelling or stocking up, and to reduce fatigue. Well, the concept is the same in humans. Some horseback riders replace their boot socks with a slick pair of compression sleeves for use underneath their tall boots, or during "recovery", like on the long drive home from the horse show. Runners routinely wear compression sleeves to aid in blood circulation and recovery.