Home » Brianna Noble is the Horsewoman We All Need Right Now
Brianna Noble is the Horsewoman We All Need Right Now

After Brianna Noble finished teaching lessons on Friday afternoon, she loaded her horse Dapper Dan into her trailer and headed downtown. In the wake of George Floyd's murder on May 25 at the hands of a white police officer in Minneapolis, she had been sitting up all night stewing, talking with her husband about the depth of racial justice issues in America, and feeling hopeless. As an African-American woman and horsewoman living in the Bay Area of California, she wanted to do something.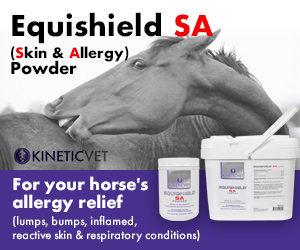 "It felt like it didn't matter how much I could scream, my voice wasn't loud enough, my words weren't deep enough," she said. "So I thought, what makes me different from everyone else? What was I put on this earth to do? And it's horses."
"I don't work with a lot of horses at a time, maybe 10 horses a year, but all of those geldings have a chance in the world because of me. So I thought, OK, this is my superpower," Brianna explained. "A huge issue in the media is that the biggest story out there is windows getting busted, people getting hurt. But the media is basically just interested in a good story. And I thought, a pretty black girl on a big horse showing that black lives matter, that will be a good story."
On Friday May 29, a peaceful afternoon protest in support of George Floyd and the Black Lives Matter movement was planned in downtown Oakland, Brianna's hometown. She hoped that a black rider would symbolize the kind of peaceful power that was needed in the moment. It was a spontaneous plan, but Brianna knew she had the right horse for it. Dapper Dan was a $500 project that was initially extremely difficult to get through to. But with time, her experience in everything from show jumping to colt starting and through a foundation of horsemanship, Brianna formed a bond with him. Now, the 17.1h Appaloosa gelding is her heart horse, and the trust between them runs deep.
"There has to be a change in horse sports. This cannot be so white."
Still though, riding a horse into an intense urban environment such as Oakland's city streets, with a few thousand extra people milling around, would be a tall order. But Brianna knew her city, and was confident that joining the protest early on would be safe for Dapper Dan. She gave herself plenty of time to load up and leave downtown before nightfall. She was able to park at nearby Lake Merritt, and ride the six or seven blocks from there to the epicenter of the protest in downtown Oakland at Frank Ogawa Plaza.
"I didn't really have the time to make signs, so I just cut up some cardboard and painted 'Black Lives Matter' on them. As I rode, everyone was slowing down and honking their horns and making a huge scene," Brianna said. Among other things, the two have ridden in parades before, and the noise didn't rattle Dapper Dan.
"As I approached the plaza there were about 3,000 people there, and as I rode up, everyone stopped chanting and looked at me. Then someone said 'look, a horse'! And raised their fists. So I raised my fist and just joined them."
People came towards her and Brianna slowly turned away so as not to end up in the middle of a tightly packed crowd. As she and Dapper Dan walked, people followed her, and at one point, two motorcycles pulled along either side of them. They revved their engines and burned rubber right under his nose, but Dapper Dan didn't bat an eye.
"When the black smoke hit his face he put his head up a little, but I just put my hand down on his neck and said 'dude, you're fine.' And he knew he was. As a horsewoman, that was everything for me," Brianna explained. Somewhat spontaneously, they were leading the protest. Cameras clicked and the photos, including the one above by photographer Shira Bezalel, raced around the internet.
Brianna runs a small lesson program in the East Bay with big aspirations. She retrains green, sometimes feral, and sometimes problem horses into solid citizen trail horses, and tries to give opportunity to aspiring minority riders. Her lifelong focus on horsemanship gave her a positive direction and passion in life, and she is now just as passionate about using horses as a medium to inspire positive futures for others.
"My horse has become my pedestal to make change, and I want to be sure that I do that."

See Also

Home » Brianna Noble is the Horsewoman We All Need Right Now
And she's outspoken about the overt whiteness in horse sports. Growing up, she had two goals in life: to be the first African-American female show jumper in the Olympics, and to start a program for low income and people of color to participate in horse sports. As an adult, she knows which of those two goals are more realistic, so she is throwing herself into the second one with the outside hope that one day, it might affect the first for someone.
"There has to be a change in horse sports. This cannot be so white," Brianna said. "As a black person who rides, I experience some of the blatantly racist stuff and then I get those who just won't acknowledge me, won't look me in the eye. And I'm an adult. There are kids out there who stop riding because of racial pressure and the hostile environment it causes. Race is this awkward thing that people don't really talk about. And the silence is stifling."
But in the saddle, Brianna channeled something that she couldn't have otherwise captured on her own two feet. Since photos of Brianna and Dapper Dan riding at the protest went viral over the weekend, she's been contacted by people all over the world with messages of support and solidarity. Now she hopes to focus that energy and move her outreach forward.
A black woman on a horse is literally a woman to be looked up to. With her ride, Brianna did meet one big goal: the power she harnessed became a positive symbol during what would become one of the most troubling weeks in the history of the United States.
"My horse has become my pedestal to make change, and I want to be sure that I do that," Brianna said. "I want to be the change that I want to see."
Photo by Shira Bezalel