In showjumping jump-offs or speed classes, time is absolutely critical. Often, it's mere fractions of a second the separate the winning round from second place. But, you don't want to be crazy, and you also don't want to sacrifice your horse's clean-jumping ability in the name of speed. So, how do you plan?
"The best way to save time is to take the fewest number of strides possible," says Clarke Johnstone, 30-year-old New Zealand-based Grand Prix showjumper and four-star eventer. "That can be taking strides out to a jump or down the line, but most importantly by taking the shortest track."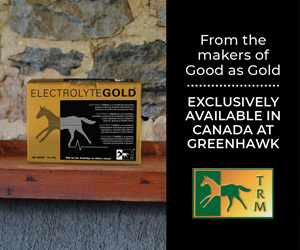 When you're walking the course, walk the jump-off separately from the first course to see where you can be a bit bolder. Look for potential inside turns to or away from jumps, and look for lines and tracks that would lend themselves to taking out a stride in some places.
I would say doing six in a seven-stride line is fine. Doing three in a four-stride line is probably not a great idea.
What not to do? "You should avoid trying to save time by going flat-out if it means going wide on turns and taking more strides. Short and tight is fast," says Clarke. And remember that what type of jump you're headed to can impact how tightly you should turn; tighter turns to verticals are often easier than super-tight turns to wide oxers and one-stride combinations.
Know your horse and what he is capable of. Some are better at leaving out strides and can't do tight turns, while others are a bit more capable of making those tight inside turns. Also, know what's reasonable when planning on striding. "I would say doing six in a seven-stride line is fine. Doing three in a four-stride line is probably not a great idea."
Make a plan when you're walking the course, and know what your goal is. Do you really, really want that blue ribbon to match your saddle pad, or are you prepping for a bigger class tomorrow? In that case, you may want to be a bit more conservative and save your horse. If you have the luxury of not going first, watch how fast the competitors before you have gone to see how bold of a ride is necessary to win, and also look at the typical M.O. of the riders to go after you.
And maybe you want to go Full Bold and jump the "non-jumpables" in the ring – such as the decorative greenery – to save time, like showjumper Adrienne Sternlicht did recently by jumping the hedge at the $132,000 Adequan Grand Prix CSI 3* at WEF. Is that really OK, or are people going to think you're a crazy person?
"Jumping the brush is totally fine as long as you pull it off! If not, it probably looks a bit silly."