This article first appeared in the April 2017 issue of Heels Down Magazine. For more stories worth reading, subscribe now in the app and get a new issue delivered every month.
---
There's no one else in the game quite like Laine Ashker. Recognized as the jog strip trend-setter and selfie queen on social media, she is as articulate and educated as she is talented on the back of a horse.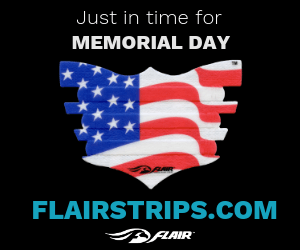 This top American eventer has traveled the globe competing in the toughest horse trials in the world, but stays close to her roots. She knows exactly who she is.
And she's not sorry for it.
"With my story, you either love me or you hate me, but what you can't do is ignore me," Laine said. "I've been someone who has continued to persevere, and whether you like it or not, that's just the facts."
Her story involves more than her fair share of curveballs, from broken bones to financial limitations to devastating losses of her equine partners. But Laine's unwavering resolve to stick to her mantra of "rise and grind" has served her well, as her career has only flourished – even when the deck was stacked against her.
[emaillocker id="11445″]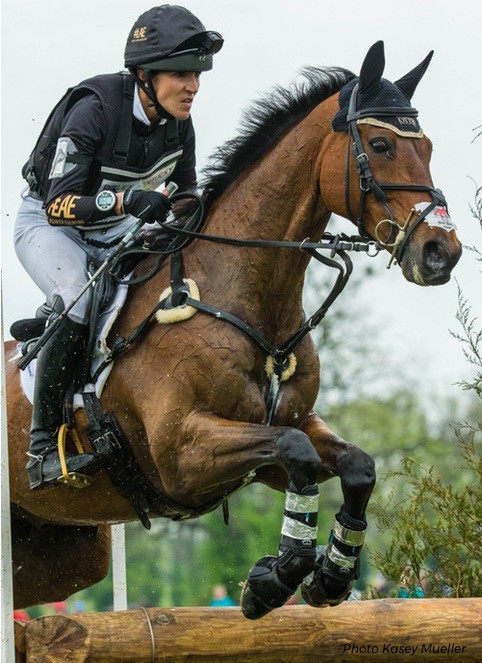 Turning Tragedy on Its Head
Laine was one of the leading event riders in the country at the young age of 24 with a hefty competition schedule at the three- and four-star level, her sights set on the Olympic Games in Beijing. Then in April 2008, a tragic accident at the Rolex Kentucky CCI4* left a young Laine injured physically and reeling from the loss of her horse. She was catapulted into the media limelight and the onslaught, she recalled, was brutal.
"After my accident I was so horrified by the backlash from the media. I was so scarred. I was sent hate mail, it was horrible. I was contemplating suicide at one point," she said. "I decided not to do any interviews or have anything to do with the media for two years – not until I went back to Rolex in 2010."
Laine would come to learn to use this backlash to her advantage. In the years that followed and through the encouragement of her father, she took her college education from the University of Virginia to the next level, enrolling in an accelerated business program at University of Richmond.
"That's when I learned about the importance of social media. I realized you could put out what you wanted people to see about you – positive messages, facts about you that were truthful," Laine explained.
She made sure that her experience as an athlete in the spotlight would be different the second time around.
"So in 2010, when I did start granting interviews, I was a lot smarter and was able to use the media to my benefit instead of becoming the victim," she said. "That's when I started to build my social media base and following. All that social media presence has earned me sponsors, clients, clinics, and I've got my dad to thank for that. My business really took off."
An Open Book
Now the outgoing, bubbly 33-year-old uses social media to connect with fans, sponsors, clients and owners, and provides educational tools like her #gridoftheday exercises. She hosts weekly Facebook live videos and even documents mini-workouts, laughing that she does squats between her rides "to get a butt like Kim Kardashian."
Some might say it's difficult to be taken seriously as a female athlete who enjoys fashion, music and pop culture, but not Laine. She admits she isn't even thinking about it. As a naturally open person, she has knocked down the wall between herself and eventing fans, drawing interest into the personalities behind the sport.
"I can distinguish myself from others that might have a wider fanbase because I can be a little more personable and talk about things that other athletes feel like they can't talk about, like the weight thing, like peer pressure, like feeling like you have to look perfect all the time, feeling like I look like I'm getting wrinkles.
"I'm not afraid to say, 'I want to get Botox.' Is that bad? I don't care if it's bad, I still want to do it. I get facial peels. Too bad! I feel like it makes me a little more human. I think people can appreciate that."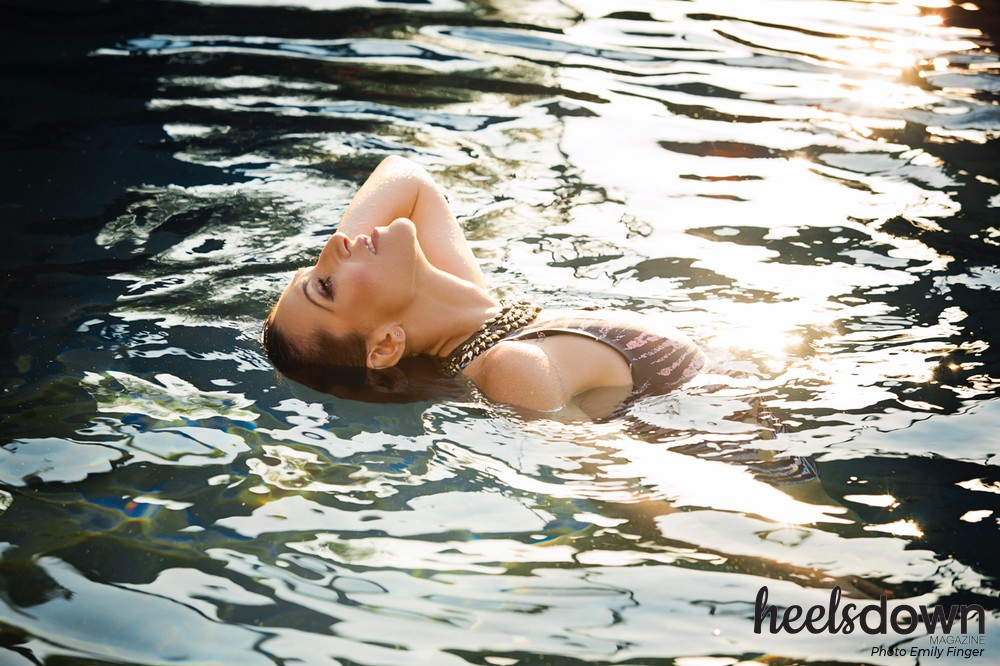 She says she's not afraid to talk about her insecurities because it serves both her and those around her.
"I feel like the second you can't talk about your weaknesses, it makes you weaker," she said. "I guarantee there is someone else that has the same problem, and if I can tell you that this is how I work through it, then for me, that's a win-win situation. Why not lift everyone up?"
Always striving to be better is the very essence of what makes good athletes great, Laine says. To her, that's what younger students of the sport should identify and idolize.
"I think that's where people's visions need to be retrained. It goes back to that rise and grind mantra – even Michael Jung has it," she said. "You've got to rise and grind every day because there's always going to be someone coming up behind you that wants it more."
The Family Standard
At any given competition that she attends, Laine's parents or grandparents are almost certainly nearby, cheering her on every step of the way. Although Laine's parents divorced when she was young, she has never been to a single Advanced-level event without at least one of her parents there – during her entire career.
"There are kids who have done it without their parents' support, but I can't say I am one of them," Laine said. "There is no way I would be where I am today without my parents support – and I'm not talking about financially."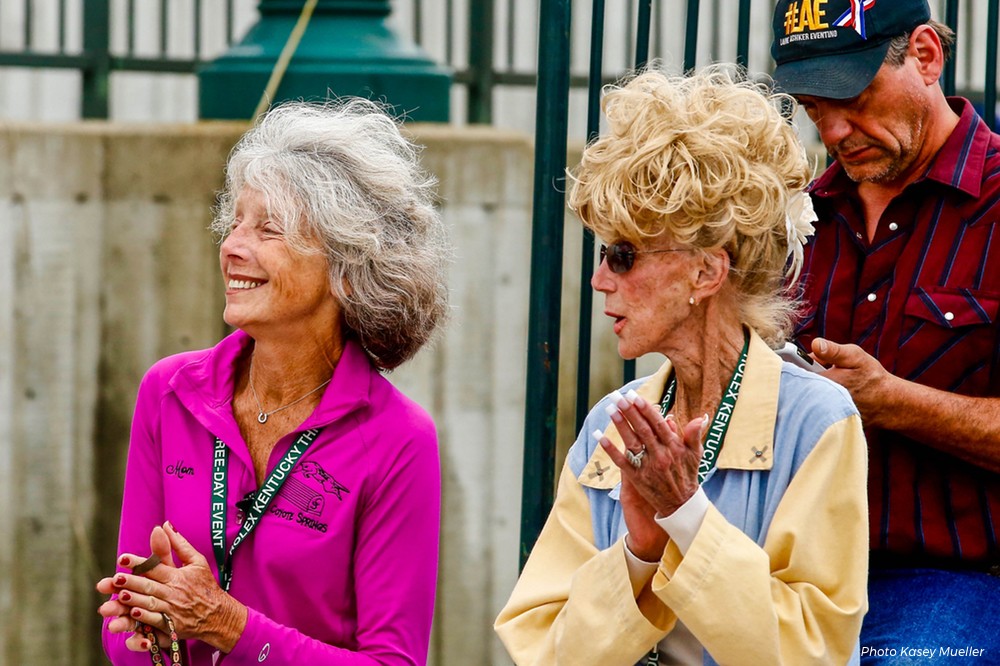 Laine spent her developmental years riding cheap off-the-track Thoroughbreds because that's what her family could afford. She recalled living in a double-wide trailer before her father's career in international business took off. But even when their family had the money to buy horses with more training, her mom made sure that wasn't the case.
"I didn't grow up on million dollar horses. Al [Anthony Patch, her ride at Rolex and Burghley] was $1,500. None of my horses were bought made. There was one point when I was young when my dad made the money where I could have had an expensive horse, but my mom wanted me to problem-solve and not have it made," Laine explained. "It puts a little hair on your chest and shows whether you want it or not, and the best riders are the ones that can ride any kind of horse."
Laine's mom, a talented horsewoman who sources off-the-track Thoroughbreds for eventers across the country, made headlines last year when she rode from California to Virginia to advocate for the breed. Despite not graduating college, Laine's self-starting father built a highly successful business developing small companies and selling them for millions of dollars, she says. For Laine, she feels she has a lot to learn from her parents' successes, and their opinion matters.
"It's really important to me how I'm perceived by my parents," she said. "My parents have always taught me to act like class and to be a humble person on the ground. I'm probably more like my mom when it comes to being in the spotlight – my dad doesn't like to speak in crowds, but on the other hand, my mom and I have sung the national anthem for the NFL."
In the company of her students, she is willing to share the lessons that she's learned over the course of her career – through the good times, and the bad.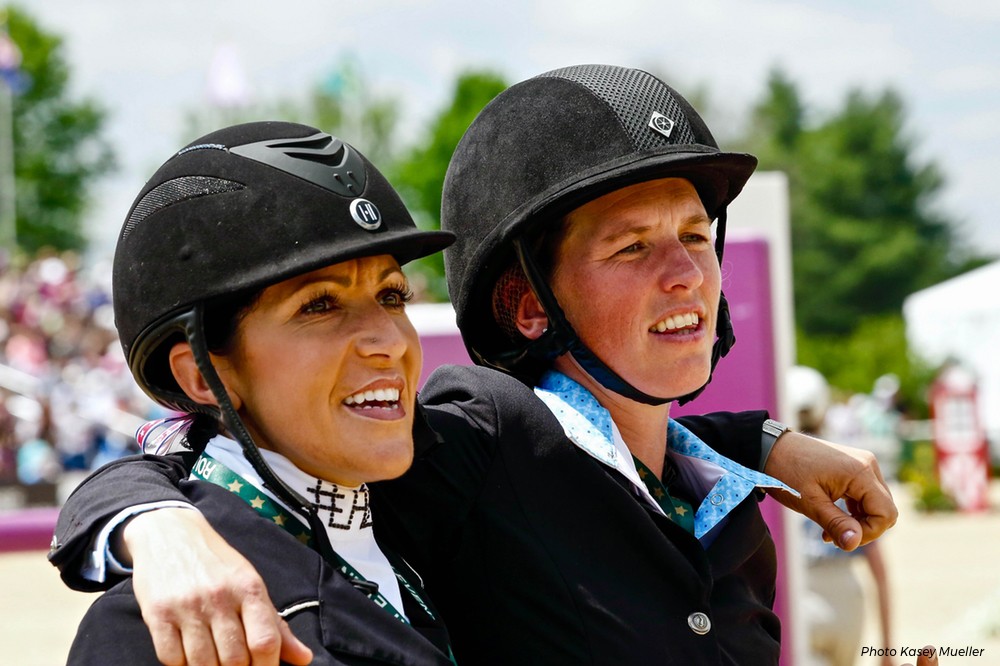 "She is always the one to put herself out there. Lainey is not afraid to be judged by others and will always stay true to herself," said student Carina Erickson of New York, Ny. "She is open to sharing her past experiences and low times with others to give them advice on their own situations…she loves to share her positive energy with everyone."
She can take advice as well as she can dole it out, too. Laine is not too proud to ask for help when she needs it, explaining that she regularly calls her friends who are also upper-level riders for words of wisdom when she's feeling nervous or facing a training problem.
"They could totally use that against me, if they wanted," she admitted. But she says that the sport is too much of a game against yourself to even consider undercutting someone else.
"At the end of the day, everyone is really out to beat themselves and meet their own expectations of performance as opposed to how it was against everyone else," said Laine. "That's being a true athlete."[/emaillocker]
Download the Heels Down Magazine app in the iTunes AppStore: http://apple.co/1QicprS or Google Play for Android phones and tablets: http://bit.ly/1sXQV75. Subscribe for a year and get two months free!