A Final Resting Place for a Heart Horse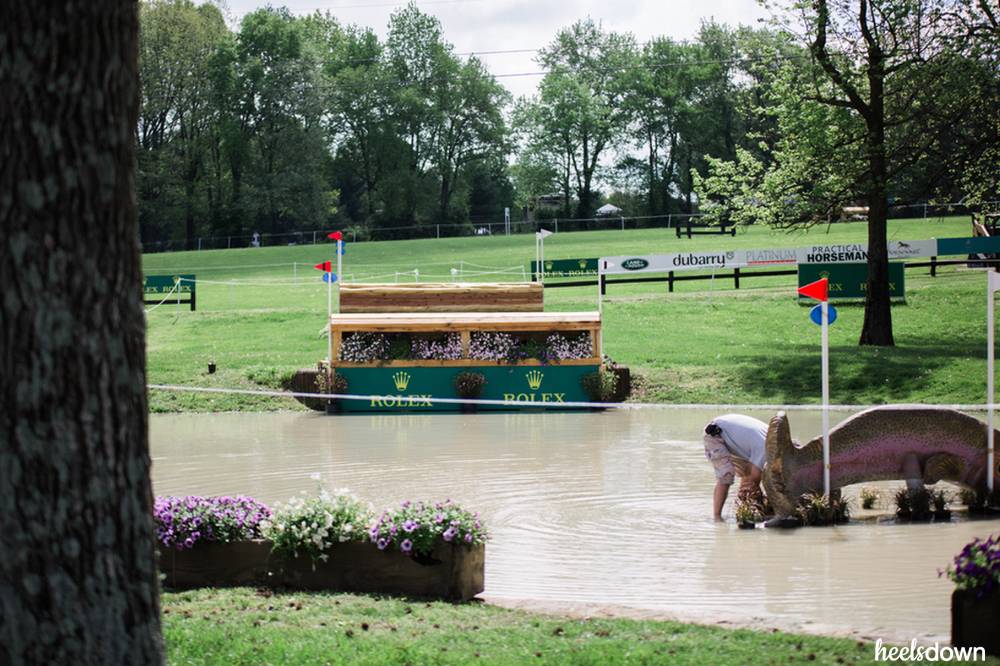 Bridget Mason adjusts the sack sagging on her back for the umpteeth time. The shoe string-thin straps dig into the skin at her shoulders. Hence her constant, clearly uncomfortable, fidgeting.
"This seems to get heavier as the day goes on, and we just started!" she says while squinting in the sun on the morning of cross-country day. She is attending the Land Rover Kentucky Three-Day Event for the first time. Beyond the excitement that comes with being in Lexington for this marquee three-day event, there's a more somber meaning to Bridget's inaugural trip to the Kentucky Horse Park than meets the eye.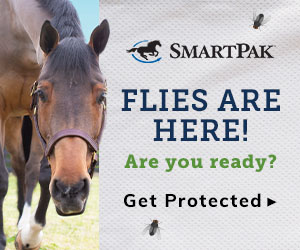 Inside the black nylon backpack she's carrying is a 50-pound plastic bag of sooty grey ashes. This one bag holds just a piece of what Bridget has left of her heart horse, an off-track Thoroughbred gelding named Titan, who passed away suddenly a few weeks earlier. Bridget, a 28-year-old eventing professional from Kansas City, Mo., would spend the rest of the day collecting some of Titan's fine, powdery ashes in her hand and letting them drift out over the Kentucky bluegrass, across the picturesque hills, the banks, and the logs of the famous cross-country course.
The acres of green pasture at the Kentucky Horse Park would become the final and poignant resting place for the bay horse who'd come into her life 14 years ago.
Grief manifests itself in different ways. Be it anger or anguish, or a feeling one can't quite describe, there is no "normal" way to grieve the loss of a horse. Nor is there an easy path ahead to begin the healing process.
Heels Down Mag is exploring personal stories of grief after the loss of an equine partner. What makes our sport truly unique is the bond we develop with our animal, no matter the discipline in which we train. While one written story may not bring back what's been lost, we hope these memories help soothe the pain.
---
There Goes My Hero
Titan lived up to his moniker. He was a strong, bold leader type of mount. He was Bridget's personal hero during childhood. She found him when he was nine and she was just 14. Initially pegged as a "top jumper prospect", Titan was actually a pretty tough ride. He was known to bolt and refuse fences. Titan perhaps wasn't what Bridget first pictured – but the bond they forged in just a few weeks was undeniable. Though his asking price was a bit out of their budget, Bridget and her family brought Titan into their family after a short lease.
Titan, who raced seven times in his short career, would remain with Bridget through her tumultuous teenage years and a budding eventing career.
Grief manifests itself in different ways. Be it anger or anguish, or a feeling one can't quite describe, there is no 'normal' way to grieve the loss of a horse. Nor is there an easy path ahead to begin the healing process.
He accompanied Bridget to the East Coast after high school, where she had taken on a working student position. There, they learned together. "It wasn't until I got there and had a month's worth of lessons, that I really realized the holes I had in my own training," Bridget recalled. "And because of my holes, Titan had some in his training. I realized how fabulous of a horse I had. They made me take off the strong bit and ride him in a snaffle. Made me learn actual dressage, and finally, by the end of my year there, I had a horse I could actually win on."
Eventually Bridget returned back home to the Midwest, and as she turned her attention to growing her own training business, she entrusted Titan to other riders who were eager to learn what he had to teach them.
And he did his job well – if not easily. He was "quirky", Bridget described. Still a tough ride, even in his more mature years. But when you figured him out, he would do anything for his rider. Bridget still cracks a smile when she recalls the feeling of being on a horse in which she felt she could take over the world. And while a minor breathing issue would keep him out of upper-level competition, it by no means meant Titan would find himself unemployed.
Like This Story? Try: Grief Is Not A Straight Line
Bridget fondly remembers her decision to lease Titan to a friend of hers and fellow eventer, Megan Kemper, after a thorough warning that he wasn't the easiest horse to get to know. "Megan really stepped up to the plate and learned how to ride him, both in dressage and jumping," she said. "She got married and decided to have a baby while she was still riding Titan. She and I didn't trust any other horse with her throughout her pregnancy and she continued to ride him up until she gave birth, and would continue to ride him after her pregnancy."
To hear Bridget talk about the riders Titan went on to teach after her, it's clear that she cherished those relationships just as much as they did. "Once Megan started riding Titan, he became her horse," she said. "They were a perfect match, and he adored her. She always did right by him."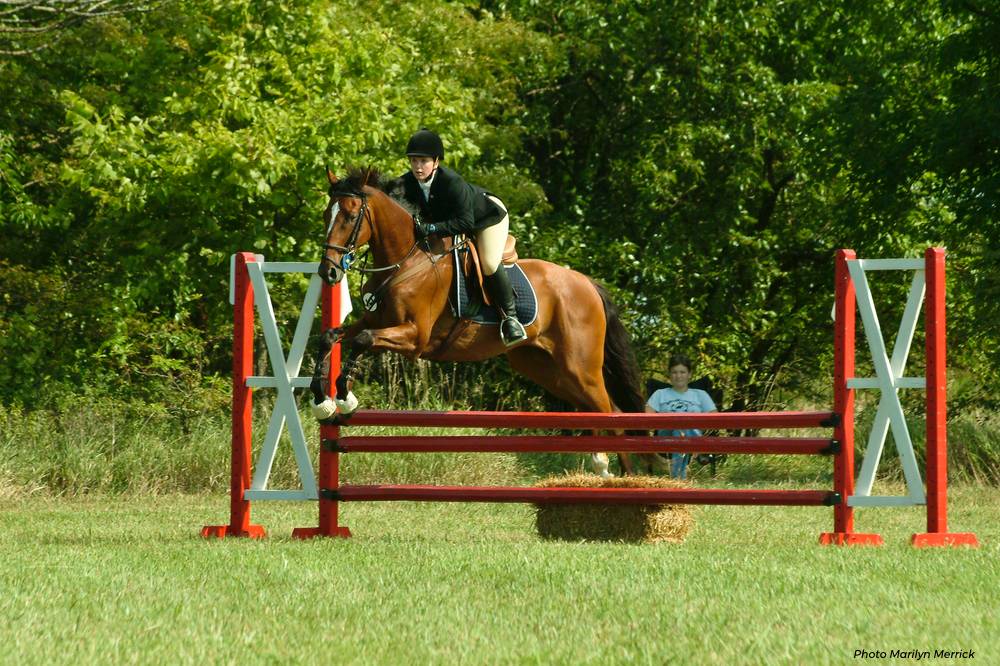 A hero in his own right whose work was never done, Titan wasn't finished after Megan. He'd go on to carry another rider, Grace Rembold, all the way to the American Eventing Championships in Tryon, N.C. in 2016, where they finished 8th in the beginner novice division. He made friends everywhere he went, prompting fits of laughter when he'd get overly excited about a fresh delivery of shavings or how terrified he was of bugs.
Titan was a true people's horse – a jack of all trades, a teacher, a confidant.
On Valentine's Day
On Valentine's Day last year, Bridget got the call she could never have been prepared for. Titan, her superhero, had an accident in turnout. He suffered a catastrophic break of the pastern bone.
"He'd fallen in turnout, and when he got up he was lame," Bridget described. "After X-rays, it was easy to see that this was fatal. His pastern was completely shattered. Megan lost it. I barely kept it together and immediately started asking about surgery. Lots of 'ifs' later, and he had a five percent chance of survival."
Knowing the decision doesn't make the acceptance of said decision any easier. Bridget called those who had grown to love Titan over the years: her parents, Megan's husband, Grace, and a couple of other close friends. Grace's boyfriend toted a five-pound bag of carrots when he arrived, which they took turns feeding Titan as a final good-bye.
What makes our sport truly unique is the bond we develop with our animal, no matter the discipline in which we train. While one written story may not bring back what's been lost, we hope these memories help soothe the pain.



"I have never felt anything as horrible as that," Bridget recalls. "For me, there was no decision. He was exhausted, in excruciating pain, and in shock. I refuse to remember him like that. I stayed and I held his lead rope, but I couldn't watch."
Just shy of his 23rd birthday, Titan took his last breath.
Bridget says she tries to focus more on the joy Titan brought her and those whose lives he touched, more than what happened on his last day. And that joy is what brings her to Kentucky on a hot spring day.
No Better Place
As the last horse races around the cross-country course on a rare sunny day in April, Bridget is making her way to the famous Head of the Lake complex – a massive water jump, seen by some as the most iconic obstacle of the entire Kentucky event. The pond is surrounded by spectators looking to cool off and get a close-up with some of the jumps on course.
"This was his favorite thing," Bridget says about cross-country.
Cross-country day at the Kentucky Three-Day Event is one of the most festive in all of horse sports. Thousands of people gather along the thin ropes that separate them as bystanders from the world's top athletes as they gallop by – close enough that you feel the thundering of the horses' hooves reverberate in your chest.
"I've never been (to Land Rover Kentucky) before, but I couldn't think of a better place he'd rather be," Bridget says of Titan. "It helps a lot, knowing he's somewhere he would have loved to be."
Bridget hesitates for a moment while standing at the end of the water complex.
"Are you sure no one's going to think this is weird?" she asks a friend.
"Sure they might. But who cares? This isn't about them. It isn't hurting anyone," her friend reassures her.
Read This Next: Bold Jumper For Dirt Cheap: A Cinderella OTTB Story
It's the final nudge Bridget needs. She wades ankle-deep into the water, slowly reaching into the bag and collecting handfuls of ash. It seeps through her fingers in small white clouds.
She continues this way for several minutes, likely lost in thought. She's smiling as she wades toward the edge of the water with a slightly lighter load.
"I think he'd like this," she says, half to herself. "This is the ultimate thing. He still made it here."
The despair one feels from grief can last for months or even years. Even when the short-term shock wears off, the ache for the memory of what was can linger for a lifetime. Despite the period of feeling low or lost, grief is necessary to process our emotions and maintain overall balanced mental health. But it can be quite complicated. Grief can have serious health consequences, and those who experience prolonged periods of panic attacks or other serious symptoms should seek out a professional for help.