4 Time-Saving Hacks for Feeding Time, Presented by Wahl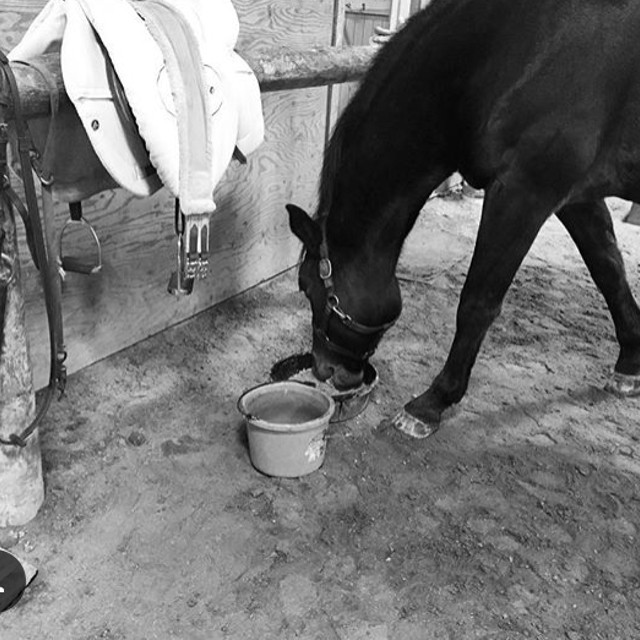 If your horse's hoof pounding against his stall door hasn't made you aware, horses are very fond of being fed as soon as they hear the grain bin open. Instead of yelling at your horse to knock it off until you're red in the face, streamlining feeding time will make things go swiftly, much to your horse's delight and your relief.
Mix the next meal after you've dumped a round of grain. We all know that horses can hear the grain bin open from a mile away, and they'll be antsy until it's in their mouths. As soon as you dump grain, while the horses are still eating, mix up your next round of meals while they're eating and content. This will help you avoid the teeth scraping the bars and hooves pounding the walls while you mix up grain each time.


---

Make delivery quick. Instead of making trips back and forth to the feed room to feed a row of horses, invest in a cart to load up all the buckets at once. If you don't need to feed supplements and therefore don't need individual buckets mixed up for each horse, having your feed bags or trash cans of feed on a cart will make scooping and dumping a breeze as you walk down the aisle, one stall to the next. You'll be the Jimmy Johns of horse feeders!


---

Have AM and PM supplements pre-mixed. If your horse has a complicated supplement or meds regimen, mix them all up and once and put them in reusable containers or baggies. Sort them into 2 boxes: an AM box and a PM box. This will seriously speed up your grain-mixing process, and can be done while you watch TV as an added bonus.


---

Keep scissors/bale openers on a carabiner and clip to your belt. Every time you go to cut open a bag of feed or open a bale of hay, you don't want to be searching for a tool that notoriously disappears into thin air.