When boarding at a large facility, you often have access to a large and comprehensive first aid kit stocked for every possible situation. However, if you do not have that luxury, it can be pricey to try to put one together for just a single horse- especially since some products have to be replaced frequently due to expiration. These are the products I keep in my personal first aid kit.
Banamine and Bute: As these are prescribed from your veterinarian, make sure to follow their discretions with usage.It is handy to have banamine around if your horse shows signs of colic- administering it can help alleviate symptoms without the vet actually visiting the property. Bute can help your horse if they have a soreness or minor injury to give them relief.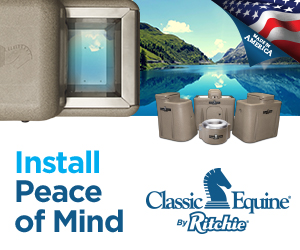 Blunt tip scissors: The main purpose of having blunt scissors is to be able to cut bandages effectively. They can also be used just like regular scissors in different situations when needed. (Just try to keep them specifically for medical related tasks…pull out a different pair for cutting open hay bales!)
Bag balm/Vaseline: Vaseline is necessary for lubricating things like a thermometer and both are great moisturizers if your horse has dry or flaky skin growth following an injury.
Plastic gloves: With first aid, it is often a necessity to keep things sanitary, which is where gloves come in hand.
Bandages/vet wrap: If you need to wrap a wound, bandages and/or vet wrap are usually standard!
Tweezers: If your horse comes back from the field with a tick, tweezers make it easy to ensure you pull it all the way out. They also are important for removing small foreign objects such as splinters.
Thermometer: One of the first signs of illness in a horse is a change in temperature. Know your horses norm (usually between 99-101 degrees Fahrenheit) and if you ever suspect something is wrong, pull out your trusty thermometer to check for fever or even drops in temperature.
Cotton/gauze: Cotton and gauze have uses in cleaning out wounds, as well as dressing and and bandaging them.
Antiseptic/wound cleaning: To clean a wound, you want to have hydrogen peroxide, iodine, or a horse specific product handy to assure it is sterile.
Wound Dressing: Having products like triple antibiotic and furazone come in handy for dressing wounds to aid recovery.