There is something to be said — and loved — about the glitz and glamour of the Western world. While most who primarily ride English don't have much in the way of Western experience, it's useful to have a base of knowledge about other disciplines. If nothing else, it's a conversation starter!
We spotted this show-stopper on dressage rider Eiren Crawford at Dressage at Devon last month, and we loved the artful collision of the Western and English worlds.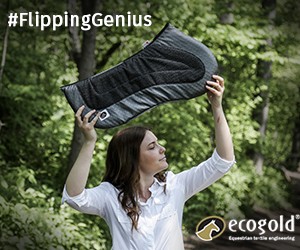 "It's my father's belt. He won the 1975 British Columbia Cutting Horse non-pro division," Eiren said of her homage piece.
Our proverbial cowboy hats are off to Eiren for finding a way to integrate this piece into her show outfit. Just like horses, fashion does best when forward thinking.