From cold to heat therapy, vibration and red lights, to healing minerals embedded in fabrics, there's a whole lot of ways to pamper your horse.
It's hard enough keeping our horses sound and happy these days, let alone trying to figure out which tool or treatment is best to use when and for what.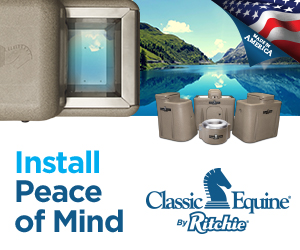 Heels Down Mag is here to break it down for you.
For one week only, we'll spotlight some new and up-and-coming therapy tools, as well as the tried-and-true methods that have been used by horsemen for decades, in the Heels Down Brief.
Beginning May 20 to the 24th, we'll the share the science behind some of these devices and treatments, when to use it and why, and which professionals swear by these methods for healing and fitness.
To be in the know, sign up for the Heels Down Brief, the daily email news blast that puts horses first, 24/7.
Horses are a daily topic. So why not start every day off with a carefully curated assortment of news that's tailored just for equestrians? TheHeels Down Brief is for those who are looking for a fresh approach to relevant issues that matter – equestrian sports, current events, pop culture, tech, plus giveaways & more. This daily streamlined newsletter gives you everything you need to know, and will be waiting for you every weekday morning in your inbox. 

Don't miss out. Sign up for the Heels Down Brief now.