Edith Friedman was a self-starter. A young mother in the 1960s, she loved riding and wanted to pursue the interest. The need for some extra financing brought about an idea: bring what people needed for their horse physically to them.
It was an innovative concept – a mobile "store". With the retail growth that happened in the 1960s, Edith saw an opportunity, purchasing a box truck and stocking it with basic horse equipment and supplies such as fly spray. She drove around, barn to barn, in New Jersey and eastern Pennsylvania, and sell enough to pay her board.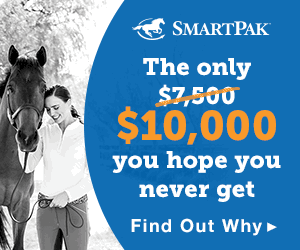 In the early 70s, Edith found herself at a farm with one odd customer. Each time Edith would pull up the drive with her truck, he'd come and look over the wares on display but would never make a purchase. Finally, one day Edith asked if there was something specific he was looking for.
The man replied that he was looking for a solution to the plain nylon rain sheets with no luck. He'd go to horse shows and struggle to keep his saddle and horse out of the rain. He was just waiting for someone to come up with something better, he said.
A few months later, Edith, an accomplished seamstress, brought the man a new product she'd designed herself. She didn't see him again for a year after that, and just as she'd written it off as a failed project, he reappeared with an order for 10 more sheets. People began asking for sheets in their barn colors. Edith was the first one to even offer the option.
The Clothes Horse was born.
***
Katrina Coldren has a lot of irons in the fire at any given moment. I was able to grab a few minutes of her time on the phone, when she was in the middle of some staff changes and system updates – a hectic time for all. Still, her sense of humor remains.
"Good problem to have, right?" she jokes as she talks about the steady flow of business The Clothes Horse, the company born out of Edith Friedman's box truck in 1972.
Custom and classic is the name of the game for The Clothes Horse, which offers high-quality coolers, blankets, show drapes, trunk covers and other accessories used by the likes of the Devon Horse Show and show barns such as Heritage Farm. Katrina, who took over ownership of the brand following Edith's retirement in 2001, grew up with this company and calls it a perfect marriage for her affinity for running a business as well as her creative side.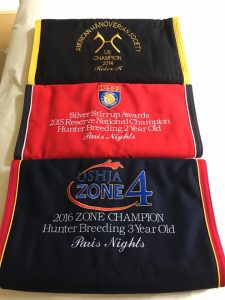 Katrina grew up in south central Pennsylvania, reading The Chronicle of the Horse line by line and hanging posters of Joe Fargis and Katie Monahan on her wall – horses were everything to her. At 19, Katrina took a gap year and ended up with an invitation to work for Edith in the early office of The Clothes Horse – and she hasn't looked back since.
Her accidental career saw her through her marriage and the birth of her two children, through the completion of her degree in anthropology, at night, in between family time and work. For her, The Clothes Horse was home – something she's fiercely proud of today.
"We are the top of what we do," Katrina said. "Edith was more concerned with making a fabulous product than she was with making hundreds of them. She'd rather make three fabulous pieces than a hundred that were just 'good enough'."
Quality – not quantity – is what has given products bearing The Clothes Horse signature detailing and customization the feeling of exclusivity, the weight of perfectly woven, high-grade material. That, combined with a corresponding level of customer service are two of the core beliefs Katrina hangs her hat on.
"We aren't like Amazon," she said – a brave statement to the e-commerce world. "I don't want anyone to hang their show banner up and just say 'it'll do' – I want them to love it. I'd rather send samples back and forth until the customer is satisfied, than discourage them."
Does it make for more work, though – catering to every whim a client can come up with? Katrina, who holds degrees in both anthropology and fine art, says it's worth it. "We spend a lot of time thinking from the customer's perspective," she said. "When we make a mistake, we will always stand behind it, but we're also not going to punish someone if they made the mistake."
She tells an anecdote about a customer who called with a problem with her order – when Katrina picked up the phone, the client was contentious, ready for a fight. Katrina says the woman was startled when she encountered the opposite.
"Society has gotten so contentious," Katrina explained matter-of-factly. "People are coming at me because they're expecting me to fight them. I'm not going to do that. I don't need to profit from something twice."
That genuine feeling of a company that hasn't given in to the pressures of e-commerce and outsourcing – that's a feeling that sticks with you. And it's obvious – The Clothes Horse has clients that have sourced their blankets and drapes for decades, and employees who have been there even longer than Katrina herself.
"I think that says a lot, right there," Katrina said. "Edith was all about making people feel included, welcomed."
One past project sticks in Katrina's mind, another Edith story. Edith had two coolers to embroider, one for someone with a three-letter last name, one for someone with a much longer name. "She said, it isn't fair that this person, cursed with being born to a longer last name, was going to have to pay more for the embroidery. Right then, she decided she'd never charge per letter. Just simple things like that – she really cared."