The first time I head the word "Hylofit" I was watching a video on eventer Lainey Ashker's Instagram. On the top right corner of a video of her running cross-country, it showed blue and red bubbles and two sets of numbers rising and falling.
Lainey and her horse were wearing the Hylofit system heart-rate monitors. As they galloped across the course, those monitors were tracking their beats-per-minute of their respective heart rates.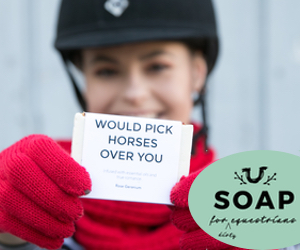 It seemed like a really cool tool, especially for high-performance athletes at the top of the sport. But the Hylofit device and easy-to-use smartphone app is an educational tool for any horseback rider.
When I first got to try out the system myself, I started by getting a resting heart rate on my horse. Embarrassingly, this is something I'd never tracked before. I realized having an idea of what my horse's heart rate is like when he's calm and healthy is so important to have on hand in an emergency or medical situation.
Next, I wore the wireless devices during a lesson. The Hylofit system connects to the app on your phone using bluetooth technology. Hylofit makes fitting the device on your girth (near your horse's heart, of course) easy. The human device wraps neatly around your chest. I clicked "start your ride" on the app, tucked my phone into my pocket, and off we went.
Afterward, I was able to analyze the results. I could pinpoint the moments in our lesson where I was working the hardest (no stirrup work, duh) and where my horse was (once we raised the jumps).
I wore my Hylofit system again at a horse show a few weeks later, on a chilly, wet morning when I was stepping up to a new height in the jumpers. I was nervous, and the Hylofit definitely picked up on that. My heart rate was the highest it was all day during our 25-minute warm-up session. This is something I never really thought of before, but it made me mindful of keeping my nerves in check at the next competition.
The Hylofit app tracks every ride, so it's easy to go back and measure results. The app has its own "Training Center" with tips from professionals, but also fitness tracking how-tos and interval training ideas to help you reach targeted goals.
What I like most about the Hylofit is how this data can be used to help prevent injury. There's a reason why we all wear Fitbits and track our workouts on our Apple Watch. Having access to that kind of real-time data is important for reaching goals and maintaining healthy outcomes. Hylofit does all that, but for you and your horse.
For more information, visit Hylofit.com
Pros
Easy to use
Seamless data tracking
Useful for lessons, trail rides and showing
Amateur friendly
Justine Griffin