Photography by Laurent Vu for EEM.
Watching a high-stakes show jumping Grand Prix is always a thrill. Couple that with the spirit of team competition, like a Nations Cup, and it's an undeniable experience for spectators. But what if that was taken one step further?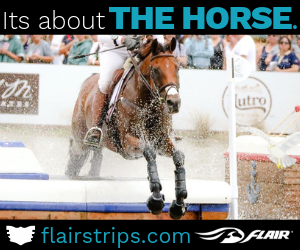 Add speed, a Europe vs. USA rivalry, and pit riders against each other in a head-to-head competition, and you've taken it to the next level. That's exactly what the minds behind the first ever Rider's Masters Cup – EEM with EEF (European Equestrian Federation) and with Longines as Founding Partner – have done, and it kicks off on Saturday night. 
"It's a new and innovative formula that was patterned after the Ryder's Cup in golf that started about 100 years ago. The team format was based on that that has always been Europe vs. the U.S. in golf," said Robert Ridland, U.S. show jumping chef d'equipe. "What's unique about (the Rider's Masters Cup), in addition to that, is the head-to-head nature, because we rarely do that in our sport, along with the fact that it's a speed competition. The first round is 1.50m and the second round is 1.45m. We're prioritizing the speed horses for that night."
This unique format, in which five riders from each team compete head-to-head for two jumping rounds, requires careful planning from the Team Captains: Robert Ridland for Team USA and Philippe Guerdate for Team Europe. And with 250,000 euros on the line, Ridland explains that the Rider's Masters Cup will require "interesting strategy that we've never done before."
"The first round is the drawn order, but the second round we'll be able to switch out riders around – they can switch horses, so riders could go with the same horse for both rounds or do the two rounds on different horses," Ridland said. "I can pair up our riders with the riders on the Europeans side that I think would give us the best chance."
The Team
Ridland has announced his selected team of five, and it's an impressive mix of seasoned veterans and hungry, ambitious up-and-comers in the sport. Three Olympians – Lauren Hough, Laura Kraut and Reed Kessler – are coupled with Chloe Reid and Devin Ryan, two U25 riders having a stellar year.
"We've got three Olympians and as per the rules, for each team you have to have at least one U25 rider. We actually have two on our team, so we're well covered on that base, but that's nothing new for us because throughout the year for the last few years we've had more U25 riders on our major teams than any other country," he said.
"The Olympians hardly need an introduction. And Chloe (Reid) has had a spectacular year for us in Nations Cups – she was on our nations cup team in Barcelona. Devin Ryan is a little bit of a new name to some fans. He's #8 on our rankings list so he's had a very impressive year especially the latter half of the year. He's on the World Cup qualifying points list as well. He's always been known as a fast rider, and is a very accomplished speed rider with a good speed horse he's brought over with him for this competition. He's a little bit of our dark horse but might be our ace in the hole."
The Plan
As far as coaching strategy, Ridland is keeping it close to the vest so as not to give the Europeans any advantage.
"One meter fifty is not a small course. The speed element, after we walk the course and see what it is, might not be that crucial a factor – it might be more important to make sure we have five clean rounds than five fast rounds."
The pressure will be on Ridland on Saturday night to decide which of his American riders to pair with the European riders to compete head-to-head, and which horses to run in which class.
"There's going to be strategy involved with which horses we have go in the 1.50m, which riders we have switch to a different horse for the 1.45m – which potentially would be a faster horse. That second round is going to be designed more for speed than the first round," he explained. 
"And then, how do you pair them up? Do you put your number one shot against (Team Europe's) number one shot? Or do you do more of a sure thing and pair your number one against one of your lower ones so that you're pretty much guaranteed to win? You don't get any more points for beating their number one guy (than a win against a different rider on the opposite team). Part of the strategy is figuring out who Philippe has got up against us, and figuring out what his strategy is. It's a little bit of a chess game, and it's going to be a lot of fun for people to watch."
Spectators can follow every minute of competition at the Longines Masters and Rider's Masters Cup live and free of charge at EEM.tv.  Find more info and purchase tickets.