"You can't put a price on peace of mind." Wiser words were never spoken, and four-star event rider Sinead Halpin operates her facility with this in mind. A competitive rider is always on the go, so maintaining the comfort and health of their horses is of utmost importance. Preventative measures for horse health are an important part of any equine athlete's regimen, and Sinead has hers down to a science.
Most fans of Sinead's will fondly look back on the hey-day of her four-star partner, Manoir de Carneville. "Tate" had some allergies that popped up at an inopportune time following cross country at Fair Hill International one year.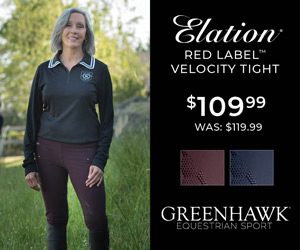 "The first time we noticed it, I had pulled up and (Tate) was in the vet box at Fair Hill and his nose started to bleed," Sinead recalled. "We investigated it in depth and found that he had an allergy to dust in hay, so we started to look for ways to treat and prevent this."
Enter Haygain, a hay steamer that has the ability to remove dust and other unmentionables from hay. For Sinead, who spends a lot of time on the road, ensuring that her horses' respiratory health is at its peak at all times is vital to success. Steaming hay is just one measure that is simple and natural, which is also a benefit.
"With our sport being so clean, you can't immediately turn to some medications for treatment," Sinead said. "Haygain has really become a part of our routine because it is so natural."
After implementing steamed hay into Tate's routine, the nosebleeds vanished. A cross country superstar, Tate needed to have the ability to put his best hoof forward at competitions, so Sinead's team also used an equine nebulizer called Flexi-Neb to aid in respiratory health. "I would use it before cross country and before gallops to help ensure his system was primed for the work," she said.
At the end of the day, it comes down to management. Sinead's team no longer worries about high amounts of dust when they trailer their horses to competitions or put them up in new environments at show venues. It's a small step in providing for their horses, and an important part of the equation.
"We get things so sophisticated these days that you wouldn't think steaming hay would be so instrumental," Sinead said. "But because it's a natural way to treat and, more importantly, prevent respiratory issues, it's a no brainer for peace of mind."