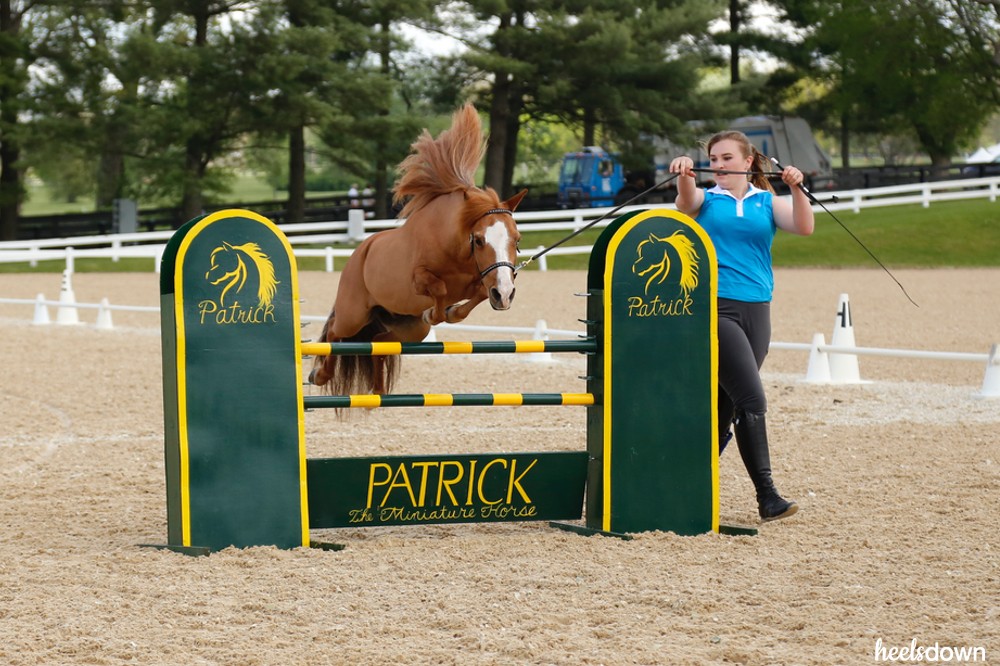 As the saying goes, good things come in small packages, and that's certainly true for GTR Patrick's Vindicator or "Patrick" – a 25-year-old registered American Miniature Horse. Sarah Schaff, now 22, received Patrick as a gift from her mother when she was only two years old.
While the age of two may seem young to receive a pony, Sarah's mother had over 30 years of experience with horses and wanted to help Sarah grow her interest in horses. What better way to do so than with miniature horses? Sarah and Patrick formed a unique bond and began their competition career together when Sarah was five and Patrick was seven. They went to local shows to compete in halter and costume classes. Then in 2008, Sarah and Patrick teamed up with the Bluegrass Miniature Horse Club to perform demos at Breyerfest and the Secretariat Festival. In 2015, Sarah and Patrick took a leap and did their first demo at the Rolex Kentucky Three Day Event, as it was known back then.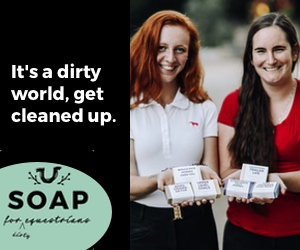 In a fitting turn of events, Patrick is now a Breyer Horse, too. Sarah announced on Facebook this month that the miniature horse, who has been a staple at BreyerFest for more than a decade, is now available in toy form.
It was Sarah's mother that initially trained Patrick in-hand and helped Sarah learn to ride on him. From there, Sarah trained Patrick to jump sans rider about eight years ago and has continued to further their training together.
Like This Story? Try: A Big Heart For The Smallest Horse
"It's harder than it looks!" said Sarah. "You have to be able to judge where they start and how many strides they take. It's kind of like jumping a horse you're riding but you can't feel them underneath you. You just have to be able to judge it by where they are." Starting with ground poles, they worked their way up to the spectacular demos that they conduct at events throughout Kentucky. "He loves jumping," explained Sarah with a smile. "Whenever we're going out to practice, he has an extra spring in his step."
The biggest lesson Patrick has taught me is how to be a good loser.
Patrick is proving that just because miniature horses are small, doesn't mean that they can't accomplish great things. This year, the pair jumped higher and performed more complicated tricks than they had ever attempted during a previous demo. Best of all? They nailed it.
"First people are amazed that he's 25 years old and can jump as high as he does," said Sarah. "Then it clicks that he's a miniature horse and can jump this high. Everyone is always shocked that he's in such great condition and so friendly."
Patrick and Sarah are more than just a dynamic duo with an arsenal of scope and tricks. When not jumping or participating in exciting and educational demos, Patrick acts as a therapy horse. As a registered therapy horse through Pet Partners, Patrick had to through through a complex evaluation to ensure his success and capability of being a therapy horse.
"He had to go through an evaluation to make sure that he wouldn't bite or react negatively to anything," said Sarah. "They had dogs in there barking at him, throw wheelchairs in front of him, they had people shaking like they were having a seizure. He passed with flying colors."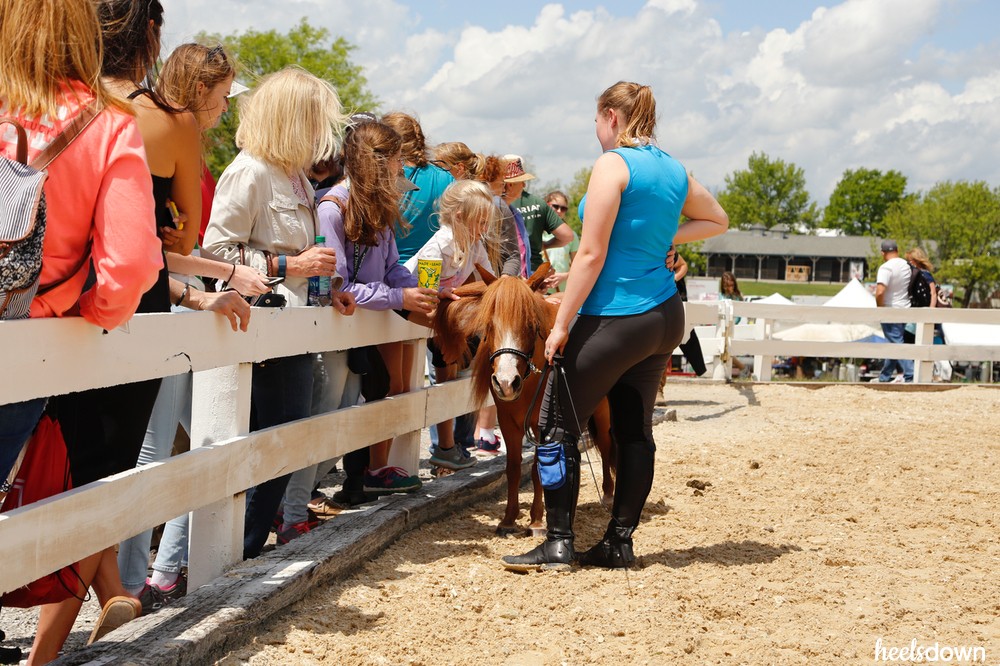 For Patrick and Sarah, flying colors means that Patrick is cleared to act as a therapy animal in schools, hospitals, and even mental health institutions.
"He adores kids, and he loves people with disabilities. He will go and rest his chin on people in wheelchairs. Ron Turcotte, Secretariat's old jockey, is in a wheelchair now and we go to the Secretariat Festival every year because Patrick is the mascot. Ron loves Patrick because he's right at his eye-level and will go and rest his head in his lap."
A passionate artist, Sarah recently graduated from Transylvania University in Kentucky. She is interested in painting, graphic design, and photography, and her ultimate goal is continuing her education at the Chicago Art Institute. In her free time, she works on her illustrated children's book about Patrick and manages the social media accounts for Patrick the Miniature Horse.
Read This Next: Teddy The Shetland, Bonafide Influencer
These days, Patrick has a fanbase that spans the globe. "It actually started on Facebook back in 2010," she said. "We were at the [Kentucky Horse Park] for the [World] Equestrian Games and people wanted to know about Patrick, so we made his Facebook page and that kind of grew. Then in 2013, I made his Instagram. That kind of blew up, and he has over 20,000 followers now, with fans all over the world who love to see him jump and do everything. He feels like he has friends all over the world."
Throughout their many years together, Sarah and Patrick have taught each other a lot. While Sarah has taught Patrick to jump and how to use his love to help heal others, Patrick has taught Sarah about navigating through life's challenges.
"The biggest lesson Patrick has taught me is how to be a good loser," said Sarah. "We would go to shows when I was little and we wouldn't do well. The first show we went to, he laid down and rolled in the arena. I was five. It tells you to go home and work harder, and that life isn't fair. You just have to deal with it and have fun. That can be one of the most frustrating things about horses."
Above all, horses have taught Sarah to be kind, to pursue her dreams, and bring passion and hard work into everything she does. From rescuing two mustangs in need of a home to chasing her dreams of becoming a photographer, horses have taught her many life lessons. "Horses are my whole life," she exclaimed. "I've grown up with them my whole life. Patrick is my best friend, and I can't imagine my life without him."