Joshua Vanderveen wasn't planning on riding in the American Gold Cup. After all, he hadn't ridden a horse since the final week of the Winter Equestrian Festival (WEF) in March. And his horse hadn't competed in just as long.
But over the weekend, the 29-year-old amateur show jumper from Wellington, Fla., won both of his classes at the American Gold Cup in North Salem. Ny., including the $10,000 Low Amateur-Owner Classic on his horse, Bull Run's Viola Lee Blue.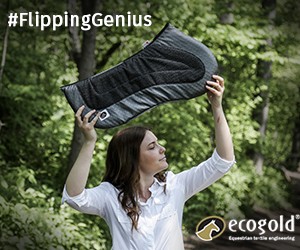 "It was all very impromptu!" he laughed.
It started as an idea from his sister – Grand Prix show jumper Kristen Vanderveen of Bull Run Jumpers – as a way for the siblings to meet up and get Joshua out of Florida during Hurricane Irma. Josh is a financial advisor for Wells Fargo in Wellington, Fla., but his office was closed due to the storm, "So I said, 'Why not?'"
When Kristen mentioned that she'd bring his horse along for him to ride, he was skeptical at first.
"I told her, 'But I haven't ridden!" he recalled. "My horse and I showed during WEF but once that was over, Kristen had to hit the road and there was no plan for this horse. So the horse was just sitting in this field, maybe getting flatted here and there, but hadn't competed one time from WEF Week 12 to this week, and I hadn't ridden."
In true sibling fashion, Kristen responded, "You'll be fine! When in doubt, just kick!"
Joshua admitted that he felt rusty on a horse, especially in the jump off, but taking the risk ultimately paid off in a win.
While Joshua isn't riding as much these days due to his career, he had a lot of competitive success as a junior.
"I did not do hunters or equitation – I was straight in jumper ring. I won my first grand prix as a junior, I got to go to (Junior National Championships in Harrisburg, Pa.) for the Prix des States, I got to go to young riders, and it was great," he said, explaining that he rode "pretty aggressively" during college as well.
Then after college, it's that time where you have to decide, 'Is this something I'm going to do for a living?' And if not, you have to find a job that actually pays the bills.
That's when he got a job at Wells Fargo as a financial advisor in Wellington, Fla. But when his sister, who also acts as his trainer, is in town for WEF, he finds the time to ride at least three or four days a week.
"I would just meet up with my sister wherever she was located and ride that way. Sometimes she'd have horses for me to ride, other times she wouldn't," he said. "There are very high expectations from Kristen – she won't put me on a horse she doesn't think I can ride!"
The siblings are close, he explains, and while Kristen made her career in horses and he didn't, they've worked out a great system to allow him to stay in the saddle from time to time.
"My goal is to mooch off my sister as much as possible!"