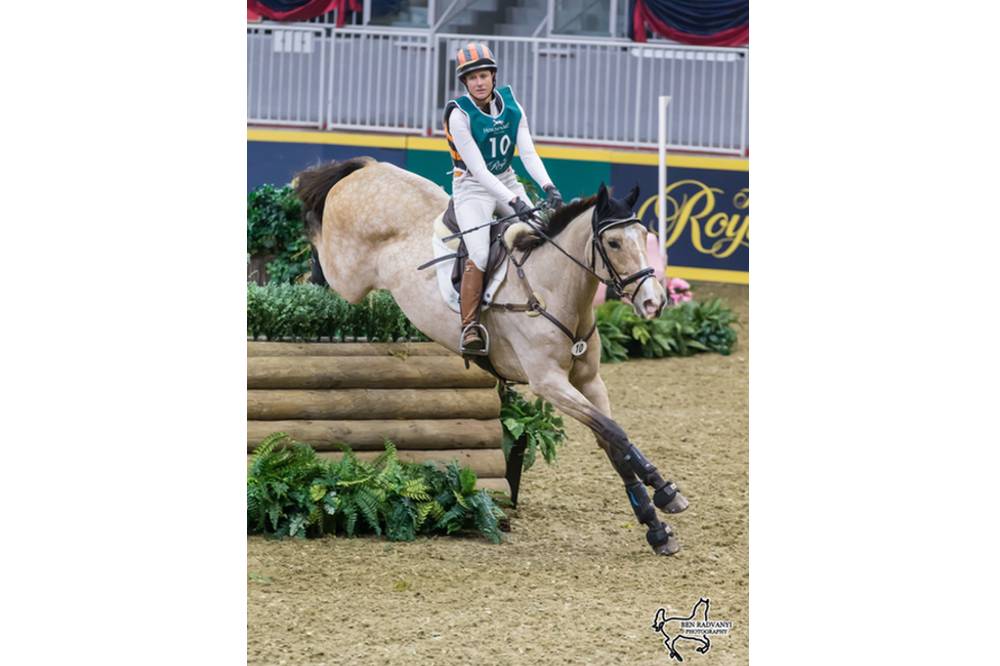 Making her Royal Horse Show debut, U.S. Olympian Lauren Kieffer rode Glendening Avis, a 13-year-old buckskin Canadian Sport Horse mare owned by Callie Evans, to victory in the $20,000 Horseware Indoor Eventing Challenge.
Here's what Lauren, 31, had to say after her win:
From Groom to Winner
"I actually came (to The Royal) 11 or 12 years ago, I think it was the first time they did the indoor eventing. David O'Connor was designing and we brought two of David's horses. Mike Winter rode Walk On the Moon and Karen O'Connor rode Tigger Two and I groomed for them. It was my first time here [in Toronto] and for a kid from the Midwest, it was my first time in a taxicab. It was my first time in the city, and The Royal York hotel. It was quite an eye-opening experience for a corn-fed Midwesterner."
Growing Up With Muggles
"I grew up in Southern Illinois. My mom is not an adrenaline junkie whatsoever. I don't know what she did wrong in a past life, but she got stuck with my dad who used to ride dirt bikes semi-professionally and then flew ultralights. And then myself, so bless her heart, she spent a lot of time in hospitals wringing her hands over us.
My parents don't have a horsey background but they were always super supportive. Most kids when they decide to not go to college, their parents get upset. But what mine actually said was 'Well, you can go to college any time, go do sport now'."
You do Kentucky for the second time and you finish second and you're like 'oh, you just do that', and then you realize that you don't just do that.
Not A Young Rider, Not "Old" Yet.
"I want to go back to being a Young Rider! [laughs] This in-between stage may be the hardest stage. I almost feel like I've been in a bit of a slump for the last couple of years. You kind of get a taste for it, you get that high. You do Kentucky for the second time and you finish second and you're like 'oh, you just do that', and then you realize that you don't just do that. There's a strong learning curve. I'm super lucky having some really fantastic horses, like Veronica, to get me up here. And now it's just learning how to not only stay there but be competitive there."
Read this next: Olympic Dressage Rider Tackles The 'Good, Bad And Ugly'
What's Next?
"It's a really good question. I haven't gotten past next week. It's been quite the busy year. We've gone fairly non-stop and thank goodness for my crew at home, I couldn't do it without them. I have the lovely Paramount Importance in the 3* at the Jockey Club in a couple of weeks and then I have foot surgery so I'll take a breath and make a plan for next year. I have a neuroma (a pinched nerve tumor), like old people get. I'm an old person."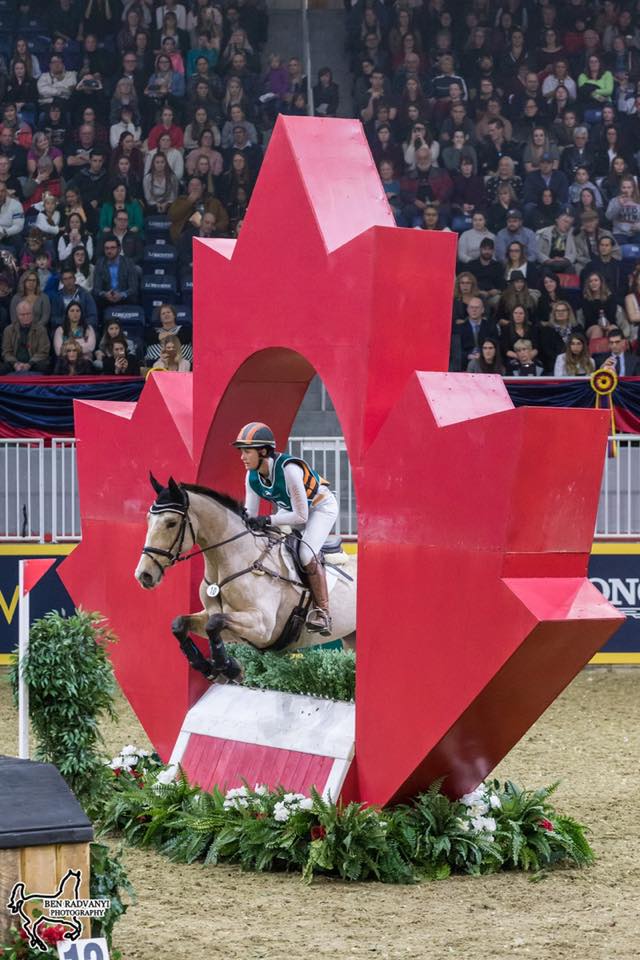 Catch Riding at The Royal
"The mare is just incredible. She tries her guts out. It's very rare that you hop on something and sync together so quickly. It was so much fun to do this on her, and I felt so in sync with her.
I rode her (for the first time) at 5 a.m. on Friday, the day of the competition, with 40 other horses in the ring and jumped five jumps. I mainly just cantered around saying 'please like me, please like me'."
Like this article?  Try: Chloe Reid – What It's Like Rooming With Other Equestrians
Indoor Eventing Course Design
"Mark Phillips was clever in his design. You actually want to give the horses an opportunity to run out so if you make a mistake, they can run out. The bad designers set up difficult things and then if you make a mistake, the horses can't get out of it and that's when you see falls happen. Mark was super clever, everywhere that's difficult he set up an out for the horses so that you find that you were to run out, you get to slap yourself in the face but carry on, which is what you want to see. That's how the riders learn to get better."