Philipp Weishaupt joked that he was "feeling much lighter" after he underwent an emergency appendectomy, which prevented him from riding at Spruce Meadows in June. But after winning the $3 Million CP International Grand Prix at the CSIO Spruce Meadows Masters yesterday, the German show jumper's pockets are feeling much heavier.
A profitable trip to a horse show, certainly. And a step towards winning the Rolex Grand Slam of Show Jumping. But the million dollar championship check, Philipp said, won't fund a luxurious vacation or a shiny new car.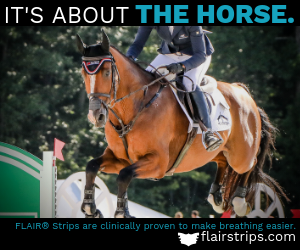 "It basically feeds our stable for one-and-a-half months. We have a big operation. We need the money. The prize money is great, it's incredible, it's the biggest prize money you can get, but the sport is also very expensive…It sounds great but I'm not going to be laying in Hawaii for the next six weeks."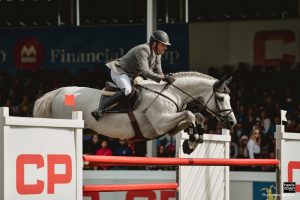 The course, set by Venezuelan course designer Leopoldo Palacios Jugo, stood at a whopping 1.70m. Philipp and LB Convall were the only pair to jump clear in both rounds, so a jump off wasn't necessary.
"It's really, really tough to be double clear and it's very special. Most of the time there's no jump off so it means that your two rounds can't get any tougher," the 32-year-old rider said following his win.
Despite this being the biggest purse and one of the toughest courses in the world, Philipp felt confident beforehand.
"The whole week I had a really good feeling on (LB Convall). I told McLain on the first day, 'I think I'm in good shape for Sunday.' He was laughing at me," Philipp joked. "The horse was just outstanding. He was double clear in the Nations Cup in Aachen this year and now to win the Grand Prix in Calgary. He makes it easy for me because he's just such an outstanding horse and I'm super honored to ride him. It's so much fun you cannot believe it."
Luciana Diniz was kicking herself for changing her strategy last minute. It was this change, she explained, that cost her a rail and therefore, the win.
"It was completely my fault. I changed my strategy when I walked the course – I planned five (strides) and then suddenly some people were going forward and the time was so short."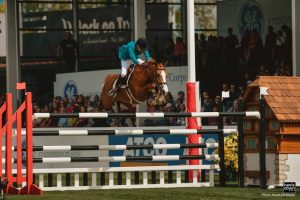 Luciana and Fit for Fun 13 finished in second place with one rail down in the second round. Ultimately, the Portuguese rider was still pleased with the final result.
"It was meant to be Philipp's day today," she remarked.
Like Luciana, McLain Ward and HH Azur also had one rail down in the second round to finish in third place.
"She's had a long season. Myself and Robert (Ridland, U.S. chef d'equipe) talked early on and one of the goals this year was this Grand Prix. So we really tried to plan and build for it."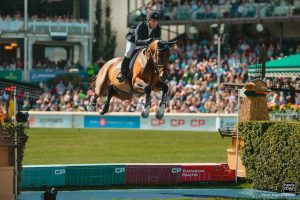 While McLain was pleased with his result, he found the tight combinations in the second round to be the challenge that knocked him out of the winning spot.
"With (Course Designer) Leopoldo, the test that's always so difficult is he crunches you in the time but makes the distances short. So that's a challenge for a big, scopey, rangey horse…Philipp answered that test beautifully today and unfortunately, I didn't answer it as well, but I'm thrilled with the mare."
Check out the full results here.