Tracy Raflowitz had escaped for weekend vacation when she received a call at 7:30 a.m. on September 30. Her groom had arrived to feed her four horses that were stabled at the Tryon International Equestrian Center in Tryon, N.C., for her daughter, grand prix show jumper Brittni Raflowitz, to compete in the Tryon Fall II Series.
It was clear that someone had been loitering in the barn in the middle of the night.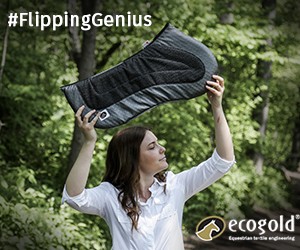 "My groom told me all the blankets were pulled down, there were beer cans behind the refrigerator, cigarette butts scattered all throughout the barn," Tracy said. "Then they saw the cigarette butts in the stalls."
Tracy instructed her groom to call show security immediately, and she rushed to check the recorded footage from her Nest cameras, which she had placed in the stabling area to keep watch on her horses and their portion of the barn aisle. What she saw was alarming.
The video footage shows a man wearing a baseball cap wandering through the barn and pestering Tracy's horses from 5:36 a.m. until about 7:09 a.m. Clips of the footage, which Tracy posted on Facebook, appear to show the man flicking cigarette butts at the horses and spitting his drink at them.
Not only was it upsetting to see her horses pestered, explained Tracy, but without knowing what the suspect was spitting at her horses, she became concerned about USEF and FEI drug testing.
"It just so happened the young horse (Mevis De Muse) got drug tested that morning after he competed," Tracy said. "I was protecting us (with the camera footage) in case we came back positive because I don't know what this guy was spitting at our horses. What if it was Mountain Dew or soda with caffeine, and my horse tests positive for a stimulant?"
Hilton Van De Breepoel, Elios, Baloumina du Ry, and Mevis De Muse were four of the Raflowitz' horses that were stabled in the barn during the incident, although Tracy believes that the suspect likely tampered with other horses in the barn as well.
"Security started looking into everything and I gave them the video footage. They already called Polk County, and they know who the guy is."
Tracy plans to press charges if the suspect, who was described to her as a local man who is not involved in the horse community, has actually committed a chargeable offense.
"The problem is that they don't know how to charge him. Spitting beer or some substance in a horse's face is not a chargeable offense. So now that they have more video they're trying to figure out what to charge the guy with."
As the investigation is ongoing, Mike Wheeler, head of safety and security at TIEC, could not comment at this time. Tracy praised the efforts of the security at TIEC, explaining that they had been attentive and quick to act.
"I'm not trashing any horse show. I never wanted that to be the point when I shared this footage. I'm trying to say, 'Protect yourself.' Yes, security is great, but the reality is they can't have someone watching your horse 24/7, there are a lot of horses on the show grounds. So, the only way for you to know, 100%, that your horse is safe, is if you do something about it. Have cameras, have people watching. That's the most important thing."