Team Italy is officially 2 for 2. Following their historic victory in the Italian leg of the FEI Nations Cup™ on home soil only one week ago, the team kept the streak alive yesterday to win the class again in St Gallen, Switzerland. Two wins in the FEI Nations Cup™ Jumping 2017 Europe Division 1 league has now boosted them to a 2nd place ranking overall, right behind France. The teams now have 3 weeks to rest and recuperate before getting back to it in Rotterdam (NED).
It was not long ago that Italy was having little success composing a team that could be competitive at the highest level of the sport, but times have changes and Italy now sits at the top of the leaderboard among the best of the best. Last Friday, Team Italy claimed the Nations Cup in their home country, something that had not been done in 32 years. This Friday, they claimed the Swiss Nations Cup for the first time since 1959 on a 9 fault score. If I do say so myself, they are on a roll.
It was bittersweet for Team Switzerland however, as they took 2nd place on home ground in St Gallen with a 12 fault total. Germany claimed the 3rd place spot, just one fault behind Switzerland with 13 faults.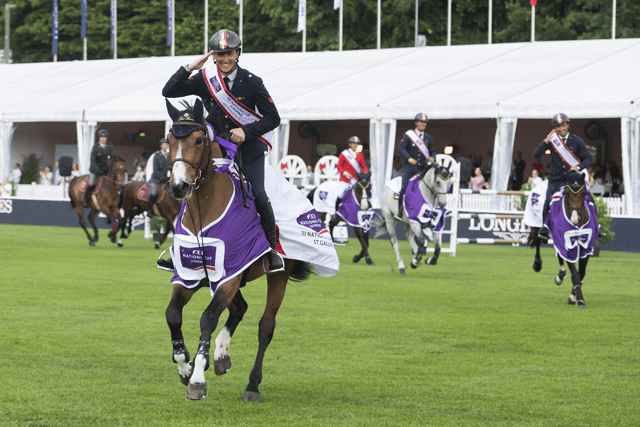 Team Italy consisted of Luca Marziani, Paolo Paini, Emilio Bicocchi and Lorenzo de Luca. Interestingly enough, not one rider on the team jumped clear in the first round of competition. Paolo Paini produced their best score in round 1 with just one time fault on Ottava Meravigilia Di Ca San G. However, they pulled it together in round 2 for the win.
Fun fact: Lorenzo de Luca's stallion Armitages Boy has an amusing habit of throwing Lorenzo some bucks while on course. When asked about the bucking, Lorenzo said: "I like it! He does it because he is happy and it's a good thing when a 15-year-old horse is enjoying doing his job so much!".
Positivity is key!