Excerpt from the April issue of Heels Down Magazine.
Denielle Gallagher-Le Griffon is debunking the myth that dressage riders don't have fun and is improving her horses in the process.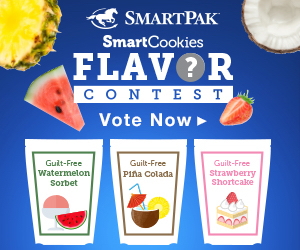 While she's no less serious about training than any other highly competitive and successful Grand Prix dressage rider, Denielle breaks the orthodox training regimen, sticking to short rides of 45 minutes and under, five days a week – sometimes four. She hacks frequently and even jumps her dressage horses of all levels.
Her horses have flourished under this program, which she feels keeps them mentally and physically fresh.
"A friend I was stabling with at a show asked me, 'You only train five days a week. Do you feel like you get enough time in the saddle to get the training done?' I really do. My horses all had gone to that show and scored in the high 70's and were happy and sound.
"You just have to install the training, and the fitness can be done gymnastically. It doesn't have to be done by pounding around in the ring," explained Denielle, who runs Brilliance Stables in Wellington, Fla., and Bedford, Ny., with her husband and French show jumper, Bertrand Le Griffon. "I have found that they really thrive under that program. I've noticed a big change."
Read the full article in the April issue of Heels Down Magazine. 
Download the Heels Down Magazine app in the iTunes AppStore: http://apple.co/1QicprS or Google Play for Android phones and tablets: http://bit.ly/1sXQV75.