'I Want To Donate My Winnings': Amanda Starbuck on Wellington #RideForOurLives Initiative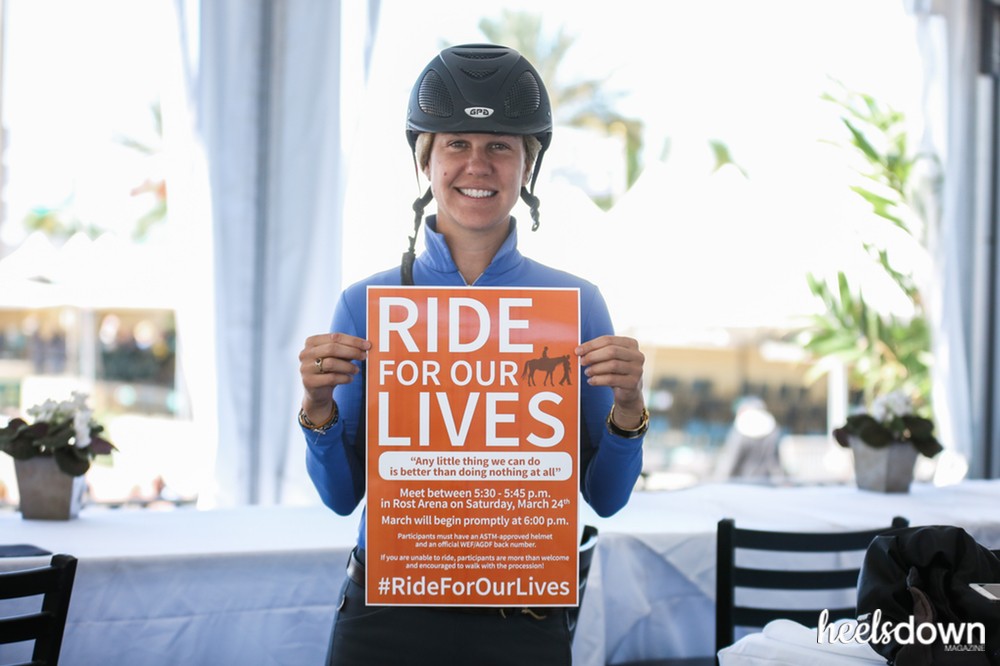 As the nation continues to reel from the school shooting that took the lives of 17 high school students at Marjory Stoneman Douglass High School in Parkland, Fla. in February, international show jumper Meredith Michaels-Beerbaum has started a new initiative called #RideForOurLives.
Meredith, along with several other riders, will participate in a procession on Saturday, March 24, in the International Ring at Palm Beach International Equestrian Center, which coincides with the #MarchForOurLives rally in Washington, D.C. Riders on horseback will stand with their children in solidarity for a strong statement of support to protect students.
"We're not standing for a specific rule change or a specific political party. This is a bipartisan effort to unite behind the fact that we don't want our children killed in schools anymore," Meredith said in a press release.
Among the riders participating is Amanda Starbuck, a professional show jumper from Ridgefield, Conn. Together with her sister, Juliana, Amanda runs Starbuck Equestrian, where they cater to many younger kids and girl scouts.
"I really wanted to be involved," Amanda said. "I'm very involved with charity organizations related to animals and kids. Once I saw (the #RideForOurLives procession) last night, I immediately grew and interest in it because I think there should be an awareness for anything related to children."
To that tune, Amanda has pledged to donate her prize money, should she win any, from Friday's Five-Year-Old Young Jumper Championship. "I want to donate my winnings," she said. "And put them toward a charity that will help protect these kids in schools." But for her, this desire to be involved and help goes even deeper than it would appear.
"We live in the town next to Sandy Hook," she said. "Two days after that tragedy happened, my boyfriend – who had recently lost his brother – said, 'You know, the holidays are so difficult for the children that lose siblings. Why don't we buy presents for all the families that have [surviving] siblings?' So we obtained a list and raised between $25,000 and $30,000 and bought them presents. The families wrote us a note afterwards thanking us for making their Christmas a little bit brighter in a very difficult time."
The #RideForOurLives initiative has met with support from media outlets and organizers involved with the Winter Equestrian Festival and, thanks to riders such as Meredith and Amanda, an opportunity for a massive show of support from the equestrian community has been made possible.
The #RideForOurLives event on Saturday is open to all competitors who wish to participate. It will take place at 6 p.m. at the Palm Beach International Equestrian Center. Posters will be available for anyone who wants to join the ride and show their support. The ride at PBIEC on March 24 is open to the public to view and will begin at 6:00 p.m. Participants on horseback must arrive in the Rost Arena between 5:30 p.m. and 5:45 p.m. People wishing to participate on horseback must wear an ASTM-approved helmet and a "WEF" or "AGDF" back number assigned to the horse and rider. Horses must be stabled on show grounds or must "walk-in". Trailering of horses cannot be accommodated. Individuals without a "WEF" or "AGDF" back number are welcome to march on foot. Registration is not required.