The Greatest.
The iconic duo of McLain Ward and Rothchild did what they do best to win the $225,000 CSI4* Sapphire Grand Prix of Devon on Thursday. Clocking in at 41.21 seconds, Ward and Rothchild were almost a full second faster than 2nd place finisher, Devin Ryan. Throwing his classic sassy buck after crossing the timers, the crowd was thrilled to watch Ward win with his longtime partner. Read more news in this week's Heels Down Rewind.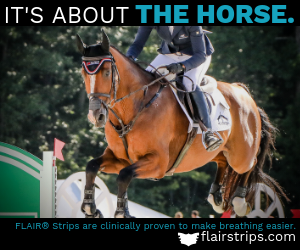 Latest.
Horses || Here are some tips to fuel your horse for competition. | @HeelsDownMag
Barn Life || Got a spooky horse? What about a spooky rider? Here's how to empower both to be a successful team.  | @HorseJunkiesUnited
Equestrian || Meet Erika Nesler, who worked the press box at Devon as a young adult & returned to tear it up in the eventing class this year. | @HeelsDownMag
Current Events || The Italian show jumping team is on a roll with a St. Gallen FEI Nations Cup victory. | @HeelsDownMag
Fashion || Spotted coats on horses were considered a fashion taboo in the Middle Ages, according to a recent study.  | @Nature.com
Games  || This hobby horse thing is getting pretty big. Even Tryon is getting in on it. | @Upstate


Business || Who gets credit when a meme becomes a movie?  | @VICE
Social || A new audit says that some celebrities have more fake followers than real ones on Twitter. | @Jezebel
Viral || "This is fine." Did you miss the viral photo of this dad mowing the lawn with a raging tornado behind him? | @Buzzfeed
Science || Two-thirds of the Great Barrier Reef is at risk of dying. Can it be saved? | @Vox


Tech || Can't make this stuff up: How a hacked computer code helped a biker gang steal 150 jeeps. | @WaPo
ICYMI:
5 Tips For Your First Horse Show
"Getting to compete is a privilege that not all equestrians experience in their life. If you're lucky enough to compete, at any level, consider yourself blessed! While it is a privilege, there's a lot that goes into the prepping, planning, and packing for your horse show! Even those who compete a few times each month can find themselves overwhelmed getting ready for their competition. Here's a few of my favorite tips and tricks for making sure each and every show goes as smoothly as possible." Read it.
Fitness.
Cardio-Pilates Fusion For a Full Body Blast 
"In just 30 minutes, this Fat-Burning Pilates Workout by POPSUGAR Fitness leaves no muscle unworked with a "jazzercise-esque" pilates-cardio blend. This workout, led by celeb pilates trainer Kit Rich, is sure to get your sweat on and provides modifications for each exercise, so even those newer to the fitness scene and reap the rewards." Read it.
Don't Miss:
Battling Riding Anxiety And Constant Worry 
"I support facing your fears on a regular basis. As someone with bad anxiety, I face an onslaught of worry on an unfortunately regular basis, too. While I used to let that limit me, I made a choice to face my worries head on. Sometimes that means I'm quaking in my boots before I do something new. Scratch that, it doesn't even have to be a new situation. Simple unknowns are like magical motivators reminding me of every possible outcome, good or bad." Read more here.