Busy weekend? The Heels Down Rewind has you covered with everything you need to know to stay up-to-date on current equestrian events. All of the good stuff, none of the fluff. Check back every Monday for more.
The Show: Longines Global Champions Tour (LGCT) and Global Champions League (GCL) – Cascais, Estoril
And the Oscar Goes To…
Celebration is in order for Danielle Goldstein (ISR) because she just won her very first LGCT Grand Prix. Aboard 11-year-old Anglo-European Studbook mare Lizziemary, Goldstein went from virtually unknown to the top of the podium in some of the best company in the world.
She was ranked 360th before this win in the 2016-2017 Longines Rankings and had yet to finish inside the top 10 finish so far in the 2017 LGCT, so this win is a dream come true for Goldstein.
Goldstein was born in the United States, but represents Israel internationally. She became an Israeli citizen in 2010 for the advantage it would give her show jumping career. There are many people fighting for a spot on Team USA, whereas this is not so much the case for Team Israel. This change in citizenship allowed Goldstein the opportunity to attend major competitions that she may not have had the chance to had she remained an American citizen. She now resides in Wellington FL, as the owner-operator of Starwyn Farms.
She knew she had to give it her all to win the 5-horse jump off and that she did by taking a stride out early on course and executing a tight and efficient turn back on the water. She finished almost 1.5 seconds faster than 2nd place Maikel van der Vleuten and 3rd place Martin Fuchs.
You Go, Glenn Coco
Egypt's Abdel Saïd is in better form than ever! Saïd recently won the CSI5* Trophee Casino de Monte-Carlo at LGCT Monaco and this weekend, he kicked off the LGCT Cascais with a win in the CSI5* 1.45m class on S I E C Captain Future Z. Defeating Ben Maher (2nd) and Marlon Módolo Zanotelli (3rd), Saïd and Captain Future were well suited to the forward, flowing layout of this course.
In recent years, Saïd has not been considered "one to beat" with low international rankings and few major wins. However, if his 2017 season so far is any indication of what's to come for him, Abdel Saïd is just getting started.
Stranger Things
What is the Global Champions League without a little drama? In Cascais, the Miami Glory were victorious only to be disqualified due to an FEI ruling.
Miami Glory's Scott Brash and Hello Forever had produced an incredible winning round, but were disqualified by the FEI due to a trace of blood on his horse. It has been emphasized that Hello Forever is not harmed.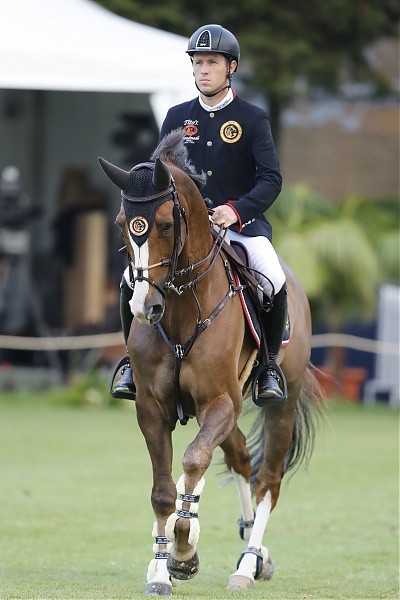 This rule has been a source of controversy for some time, with some riders feeling that the rule is too black and white, without any consideration of the cause or location of the blood. Betram Allen's elimination in 2015 for blood found of Quiet Easy sparked outrage from his fellow riders, while the opinions of spectators remain mixed and the discussion of the "blood rule" has not quieted since. GCL Co-Founder Jan Tops said that "it is a rule the FEI have to change", and noted that it is well known how much Brash cares for his horses.
With the disqualification of the Miami Glory, the Mexico Amigos took 1st, followed by the Paris Panthers in 2nd and Vaalkensward United in 3rd. Vaalkensward United's 3rd place finish was enough to put them back on the top of the overall leaderboard, pushing the Hamburg Diamonds into 2nd overall with the St Tropez Pirates in 3rd.