Busy weekend? The Heels Down Rewind has you covered with everything you need to know to stay up-to-date on current equestrian events. All of the good stuff, none of the fluff. Check back every Monday for more.
And the Oscar Goes To…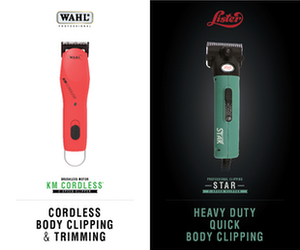 25-year-old Swiss rider Martin Fuchs and his mount, Chaplin, won the Longines Global Champions Tour Grand Prix in Mexico City. This is a highly recognized and highly competitive series, for this pair to take the win in their first ever outdoor CSI5* is a huge deal. Martin Fuchs and Chaplin thrilled every fan in the audience with their flawless and blistering fast jump off, stopping the clock at 37.07.
"My horse is very fast and super careful," said Fuchs, "He has a big heart and he gave it all to me today. He never did a 5* Grand Prix till now. He did it in the indoor but to come out here and do his first outdoor 5* Grand Prix with two clear rounds he really showed that he is one of the best horses.
For all show jumpers to succeed, it takes a village and friendships between riders can be a huge advantage in the ring. Martin Fuchs snagged the win with a little help from his friends, "Nicola Philippaerts and Max Kuhner were helping me making the plan for the jump off." he said. "I started off with the same amount of strides as Niels [Bruynseels] and then I took a real risk at oxer number three, went fast at the combination and then the next vertical which was a tight turn it was everything or nothing. I took all the risks there and then I knew to the last jump I could save a little bit and don't take the craziest risk."
You Go, Glenn Coco
Major props go to Bertram Allen, as part of Team Valkenswaard United, led his team to victory in the Global Champions League. He was fault-free throughout both GCL competitions rounds, however his perfect streak ended at the individual LGCT Grand Prix. Bertram pulled off another clear in the Grand Prix's first round, but had a disappointing rail in the jump off leaving him in 5th place overall. Bertram wins many things but it's hard to win all of the things. We still love him.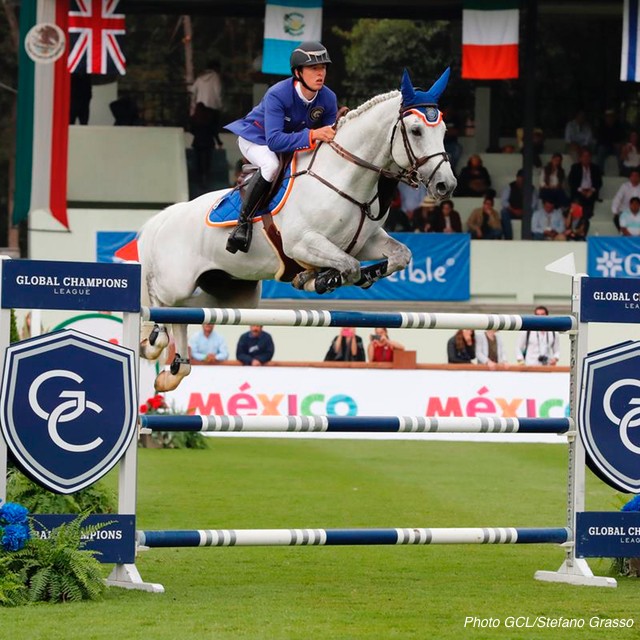 Stranger Things
"Oh, how the mighty have fallen!" – Mexico City edition. Roger Yves Bost of France was the 2016 winner of the LGCT Mexico City Grand Prix, however LGCT Mexico City 2017 was a different story. Yves-Bost had the very first fence down with his mare, Sydney Une Prince, followed by another rail shortly after in the first combination. Knowing his chance of another win was gone, Roger Yves Bost retired with a tip of the hat. Sometimes you win, sometimes you retire, and sometimes you do a little of both. Eric Lamaze also called it a day from the competition on Fine Lady after early faults in the course along with Simon Delestre and his gelding, Chesall Zimequest.
Bromance alert – The team aspect of the Global Champions League is one that riders appear very much enjoy. In the "awwwww" worthy category, Jerome Guery spoke fondly of Simon Delestre, his teammate on the second-placed St Tropez Pirates:
"I'm really happy to be with Simon. Simon is my best friend, to make a team with him it's really nice for me. I'm also really lucky to be in the team with him because he's one of best riders in the world. I had two down but I'm lucky to be with Simon as he did really well". Simon Delestre produced clear rounds on Hermes Ryan in both legs of the GCL competition. The 12-year-old gelding suffered a micro-fracture to the hock just prior to the 2016 Olympic Games in Rio de Janeiro and was forced to withdraw from the French team. LGCT Mexico City was Hermes Ryan's first CSI5* Grand Prix following his recovery from his injury. We call that a success!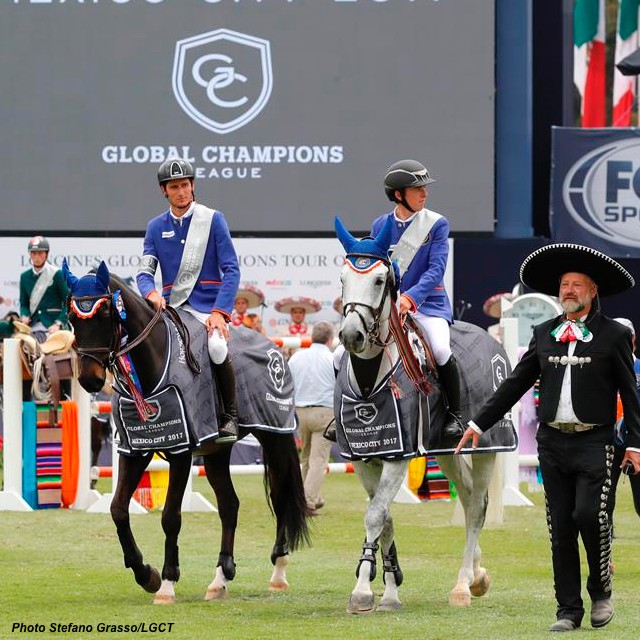 The Chantilly Pegasus, made up of Martin Fuchs and Nicola Philippaerts, ended up in 3rd. The bromance went on, as Fuchs had this to say about his teammate: "Nicola is one of my best friends at the shows. We have a very young team. We support each other. "
Giving everyone reading the warm and fuzzies are the happy riders praising not only their mounts but admiring their fellow riders as well. Mexico City was not without disappointment for some, but many riders left the ring with a smiling face, especially Martin Fuchs. On to Miami Beach!