Heels Down Magazine is thrilled to announce its new title as the Official Equestrian Media Partner of the Longines Masters Series. The Longines Master Series "Grand Slam Indoor of Show Jumping" is renowned as one of the most prestigious equestrian events in the world and is established in three of the world's most iconic cities — Paris, Hong Kong, and New York.
"Our new partnership with the Longines Masters Series is the perfect opportunity to give our readers a real look at some of the best show jumping horses and riders in the world," said Heels Down Magazine CEO Patricia Da Silva. "With beautiful photos, constant social media coverage, and a series of exclusive podcasts taped live at the Paris and New York shows, Heels Down readers will be part of the action."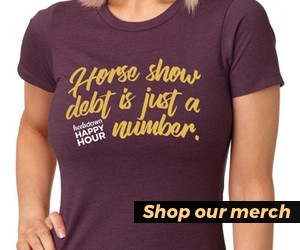 The Longines Masters of Paris (Nov. 30 – Dec. 4) is the kickoff of the series, followed by the Longines Masters of Hong Kong (Feb. 9 – 11, 2018) and the series finale at the Longines Masters of New York (April 26 – 29, 2018). The Series brings together the most iconic horses and riders in the most iconic cities in the world.
"Season Three of the Longines Masters Series marks two long-awaited introductions for EEM: our debut in New York and the launch of the first international equestrian duel between Europe and the US, the Riders Masters Cup," said Marissa Brooks, Chief Marketing Officer, Americas, for EEM World. "We are thrilled to be partnering with Heels Down to bring the next generation of equestrian leaders along with us for this exciting next step in our journey through thoughtfully-curated digital content.
"Fans will be able to hear their favorite riders discuss the new Riders Masters Cup competition on the Heels Down Podcast from Paris and New York, gain live access behind the scenes at the Longines Masters of New York on Instagram, and more. We look forward to sharing the unique and exhilarating Longines Masters experience with Heels Down subscribers and are glad to welcome them as a partner this season."
For more information about the Longines Masters Series, visit www.longinesmasters.com.