The team behind CHIO Aachen have dreamed up an innovative way to give bloggers their own place to shine at Germany's largest sporting event. Aside from the 600 journalists and 200 television crew that attend the show, the CHIO Aachen Blogger Lounge is bringing Germany's most popular bloggers into the action as well.
"The blogger lounge is a meeting point for bloggers so they can meet other bloggers, meet with fans, and meet riders for interviews," explained Jinene Stach, who worked to coordinate the blogger lounge and select the bloggers alongside the CHIO Aachen press team. "We thought that bloggers are becoming more and more important in media and social media and we wanted to give them their own spot. What they do is different from the other press's work."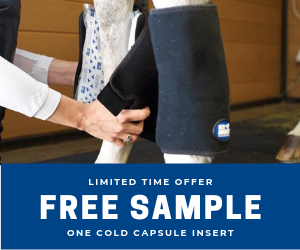 The Blogger Lounge feels more like a chic living room than a horse show setup, with television screens, tables for laptops, white leather couches, and a photo booth.
Twelve equestrian bloggers from Germany were hand-picked for the first-ever CHIO Aachen Blogger Lounge, giving their combined list of hundreds of thousands of followers a glance into the show as well.
"This is important for bloggers because we meet each other, we see what other bloggers do, and we get to see behind the scenes at CHIO Aachen because I've only watched it on TV the last few years," said Miriam Schwarzler, a 20-year-old Youtube vlogger with about 47,000 Instagram followers. "It's the first time for me to be here, and it's the biggest festival for riding in Germany and it's really famous. We meet here and we talk and talk to other riders and get to meet brands that would like to (work) with us."
It's the first time an equestrian sporting event has equipped bloggers with an opportunity like this. It's not just a chance to come to a famous horse show, it's a chance for them to grow their businesses and network with fans and other bloggers.
"I thought this was a great idea because the blogger scene in Germany is a bit difficult," explained Harriet Jensen, the 25-year-old behind Germany's most-read personal equestrian blog. "I've been dealing with it for quite some time and have the feeling that things are growing really slowly, it's very nice and great that an event as huge as Aachen is doing this because it makes the blogger scene a lot more present in the media."
It also gives the bloggers an opportunity to provide a new type of content to their followers.
"Until now we bloggers have always put the focus on ourselves and it's nice to give the readers different impressions because they know (me), but it gives them the possibility to have a look behind the scenes here at the show," said Harriet. "We're also getting to talk to the grooms, we're having a groom (meeting) tonight – I think those are special things that not everyone gets to see."