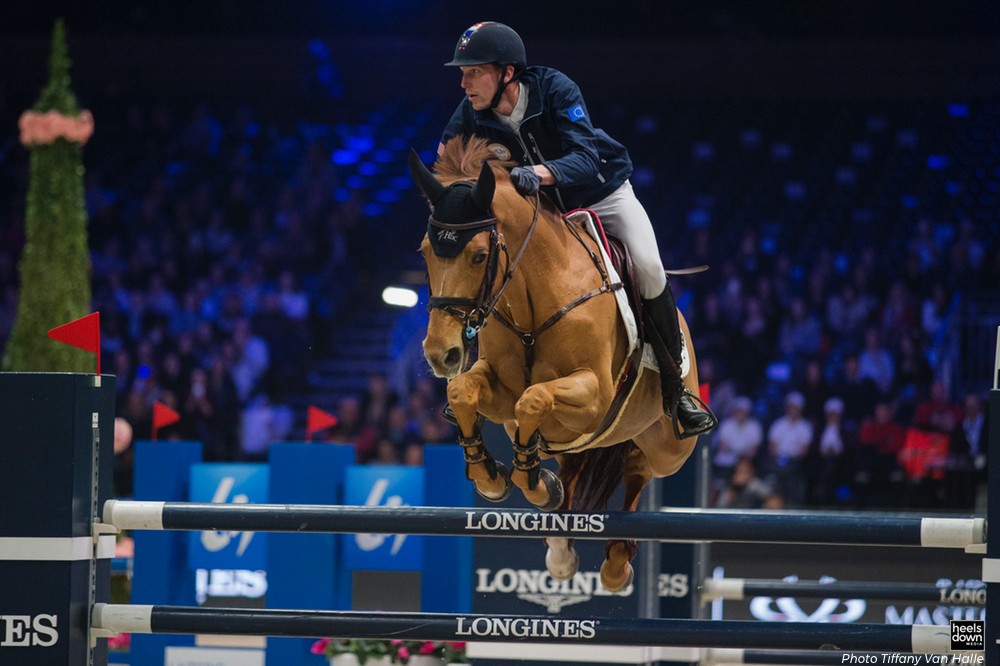 The first ever Riders Masters Cup rocked the house in Paris tonight as part of the Longines Masters Series, and we're already champing at the bit to see the next leg of this exciting new series.
Team Europe took the trophy tonight, winning 9-6 over Team USA. Led by Philippe Guerdat, Team Europe made up of Kevin Staut, Gregory Wathelet, Maikel van der Vleuten, Lorenzo de Luca and Jos Verlooy. Team USA was led by Robert Ridland and was made up of Lauren Hough, Devin Ryan, Laura Kraut, Chloe Reid and Reed Kessler.
Here are our five favorite moments:
1. Devin Ryan's tack malfunction. Like a wardrobe malfunction, but for horses. Devin Ryan was turning to the fourth fence on course and his inside rein suddenly broke, leaving his horse Cooper unsure of where to turn or what to do. Devin kept his cool, stayed on, and some handy helpers got a halter on Cooper quickly in the ingate area. Crisis averted, and Devin came back for an incredible performance in the second round. "It was a European hackamore I bought the expensive one and spent $300 on the thing, and the rope piece around the nose separated from the metal," Devin said. "It was just a complete string of bad luck. I've showed in that bridle for three years with that horse and never had a problem!"
2. Learning new, head-to-head format.This was the first time the world had seen this new format of competition, but it was incredibly fan-friendly, easy to understand, and very exciting. This is a competition we're really looking forward to watching again in New York, in April 2018. "It's a new concept. It's prioritizing the speed element, which is often neglected in our sport," said Team Captain Robert Ridland. "It's really the most exciting part of our sport, and to do it at a high level like this, in a head-to-head format, which is also different, I think it's fantastic."
3. Robert Ridland. What a guy! Tonight wasn't Team USA's night, but Ridland had nothing but positive things to say about his team. When asked what he would change about the night, he said, ""I wouldn't change anything, we had a great shot."
4. Lorenzo de Luca's clear round to seal the win. The win came down until the final duel of the second round, so the pressure sat fully on the Italian show jumper's shoulders. He went fast, but not too fast, to be sure he left all the rails in the cups. After he realized he'd done it, the grin on his face went from ear to ear as he galloped around the arena, fist in the air.
Last rider to go, @lorenzodl87 de Luca aboard Jeunesse van't Paradijs wins it for #TeamEurope in the inaugural Riders Masters Cup @longinesmasters. #WaveYourFlag #RidersMastersCup

A post shared by Heels Down Magazine (@heelsdownmag) on

5. When the crowd went wild for Team Europe's win. Europeans know how to party, as evidenced by the numerous DJs and parties throughout the Longines Masters of Paris. With Team Europe's "home crowd" in Paris, the cheers seemed to give the European riders' horses an extra set of wings. But when Lorenzo de Luca jumped clear in the final duel against Lauren Hough, securing the win for Europe, the roar from the crowd was deafening, and Team Europe flags were waving from nearly every seat in the stands.