Ellesse Jordan Tzinberg Will Make History At the FEI World Cup Finals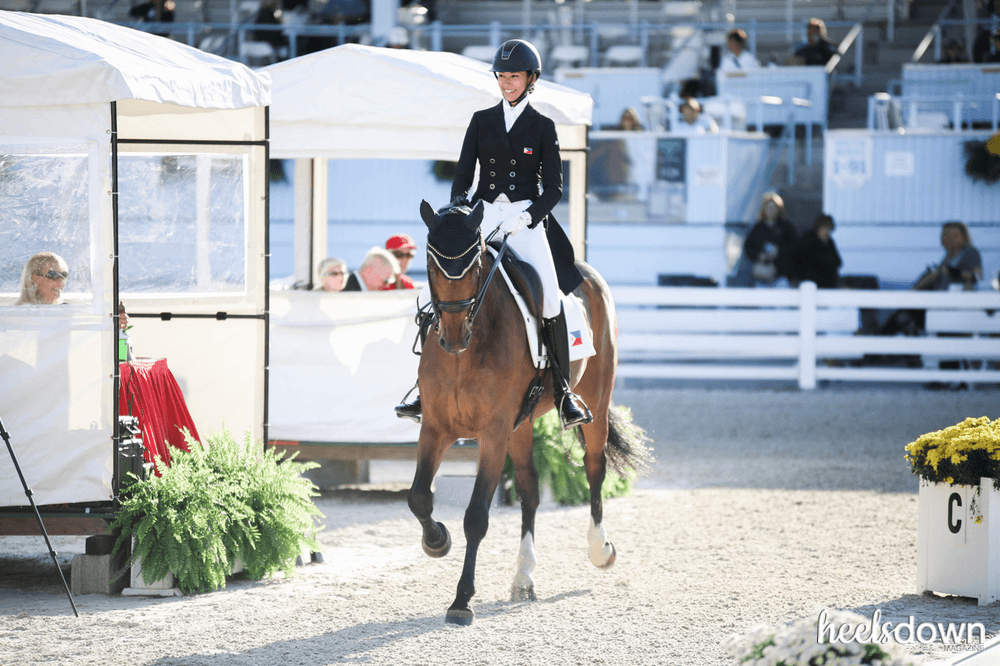 As told by Ellesse Jordan Tzinberg
A pump well.
That's what we used in the small Philippine village, Lubao, for freshwater when I was growing up. There was no running water. You'd have to pump the water from the well into a bucket. And if you wanted hot water, you'd have to boil it, mix it into the base, and throw it over your head. This was life.
Malaysia – where I grew up – and the Philippines – the country I will represent when I compete at the FEI World Cup Finals next week in Paris – are very, very third world. It's gotten much better now, but my parents still work to survive. My dad is in his 70s. They work to still be able to get through.
I hope that other riders who also don't come from typical riding families or equestrian communities are inspired by the journey I'm on, that they see me and believe they can do it too. I hope that they see me representing South Asia and the Philippines, the first time this country and this part of the world will be at the FEI World Cup Finals in dressage, and see that they can work hard too. You have to do things that make you very uncomfortable, like live alone in Europe when you're 14, work multiple jobs around getting a university degree and catch riding, or begging for chances to show you belong in the competition ring, but that is what it takes to get there. It's not easy, but it's not impossible.
I hope my story really shows that.
I have an older horse that really has far surpassed what I expected him to do.
I actually tried to go to the World Cup Finals last year in Omaha, Nebraska. It didn't happen and I was very upset about it. I tried for the only spot that I knew I could qualify for. It's called an "extra starting place," which is a designation the sport uses for when the home country doesn't have a qualified rider to compete, and the other is for "domiciled athletes."
I'm the latter, a "domiciled athlete." This is what I'm considered because I live in the U.S. and I cannot go over the Pacific League to Australia to compete since I ride for the Philippines. My mother is Filipino, which opened the door for me to represent South Asia. In order to compete without the "domiciled" condition I would have to fly my horse across the world. So I'm "domiciled" here in the U.S. There are other riders like me that are "domiciled" in Europe and elsewhere. We declare our intent to go to the finals and compete as if we were in our correct leagues. Then the FEI looks at all the domiciled athletes and takes whoever has the highest rank. So that didn't happen for me last year, but it did this year.
It's all very exciting, because it wasn't in my plans to get to the finals at all. This just shows that you can't plan for anything in this sport.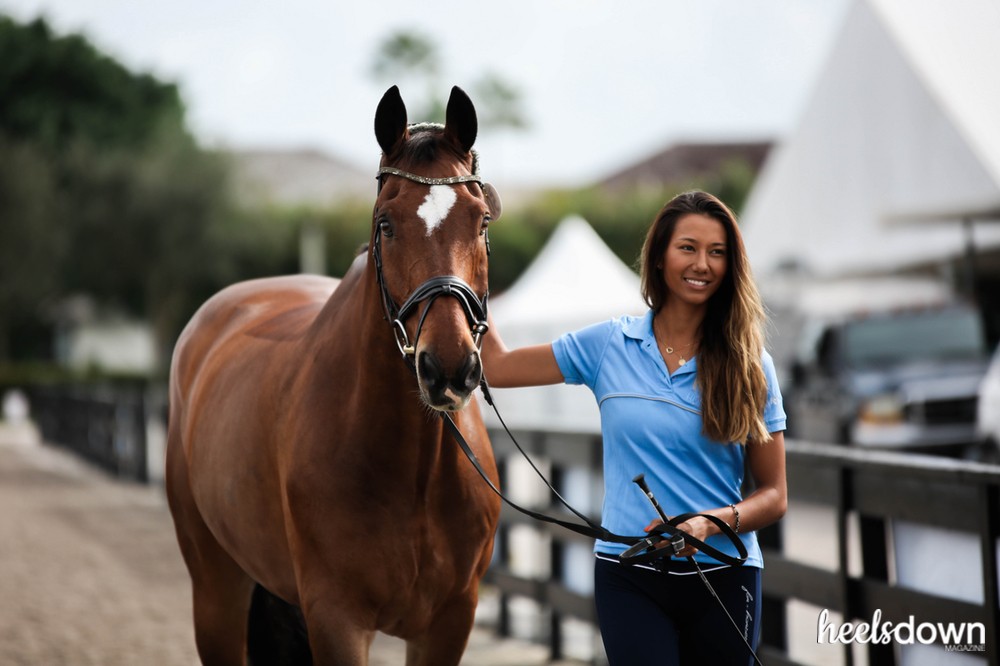 I have an older horse that really has far surpassed what I expected him to do. For me, if he's sound and healthy and happy, I would be silly not to give him this opportunity to go to a championship. I wanted to go to the World Equestrian Games this year, and I still want to go, but who knows what's going to happen months from now. This is here and now, so of course I'm going to go. Who doesn't want to ride next to Isabell Werth? I'm going to trot next to her in the warm up and go, "Hi, how's it going?"
I've tweaked my freestyle a little bit and I'm really excited to show it. A lot of people who owned my horse, Triviant 2, an 18-year-old Dutch warmblood, before me used to say, "Oh, this horse gets nervous indoors". Sure, he has been known to have a fox in his ear that tells him a few things. But he's so much better since then. The other day a judge commented, "very obedient horse," and I was like, "OMG, that's amazing." That is the biggest compliment ever because he was so not obedient before. He's done so well at the Global Dressage Festival in Wellington on Friday nights, which is the closest atmosphere you can get to that indoor. I'm usually the first to ride in the freestyle but last time I started later, and it was packed with spectators. The stands were packed, the VIP was packed. He walked in and he was "oh, everyone is here to see me. This is amazing!" So now that we trust each other he's a much more chill horse. He's going to embrace that crowd. I think he's going to love it and really perk up. And he's going to think that everyone is there just to watch him.
Most of all, this is meant to show young riders in Asia (and really anywhere in the world) that they can make it.
But more importantly, the chance just to ride for the Philippines and to represent South Asia at the FEI World Cup Finals is so exciting for me. This will be a first. Even in jumping, the Philippines hasn't had anyone in the finals. It can be so hard to qualify. For this reason alone, I knew I had to go.
My mom, who is so cute, says she's going to alert the embassy in Paris to tell all the Filipinos to come watch with flags. Even some of our jumpers, who are based in France, are going to come and watch and wave flags. It's a bit of a homecoming for me too, because I lived in Paris for six months. I'll get to see my parents for the first time in a year. They are flying in from Malaysia where they live. I can't wait to see them.
But most of all, this is meant to show young riders in Asia (and really anywhere in the world) that they can make it. Because I don't come from a family that has anything to do with horses. And I represent a country that is so new to this sport.
***
Ellesse Jordan Tzinberg is about to do something that no rider who came before her has done before: represent South Asia and the Phillipines for the first time in the FEI World Cup Finals for dressage. The 26-year-old grand prix dressage rider is headed to the final event representing her home country, a part of the world that has had little international presence in the sport of dressage, and even less in terms of funding and development programs. In essence, Ellesse has had to accomplish more with less to wear her home flag on her lapel.
Read more about Ellesse and her quest to represent the Philippines in the June 2017 issue of Heels Down Magazine.