Until now, each course we jump has been evaluated in two primary ways: the feel we get while riding it, and what our trainer sees visually from the ground. The CWD iJump Saddle, which is a "connected" saddle that provides data on the quality and symmetry of your horse's stride and jump, might change that.
As we walked around the Salon du Cheval in Paris, France this week, it became clear that data delivery in the form of apps is about to be huge in horse sport, management and veterinary care. Riding is no different, and these exciting new innovations could provide insights into our horses' performance (and our own) that we've never had before.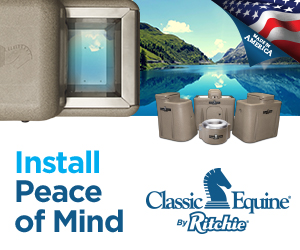 This saddle is only available for lease, not for purchase, because the company recognizes that there will be updates to the technology over the years and they want riders to stay up-to-date. We chatted with CWD to discuss the CWD iJump Saddle, which is not yet available in North America but will be launched worldwide in 2018, according to CWD's Corentin Chipont.