Waltzing Matilda USA, a unique brand headquartered in Wayne, PA, specializes in handcrafted leather bags, sandals and accessories. The company was started from the back of a VW van with a hammer, a knife and scrap leather. The first Waltzing Matilda USA product was created from repurposed shoe leather and transformed into a sandal. The company's founder, Mike Balitsaris, has fostered a lifelong passion for creating unique wearable items from leather. At his first appearance at the Devon Horse Show, he told us the story behind his creations.

---
I started Waltzing Matilda USA originally back in the 1980s when I was in college. I was making sandals through school and on breaks. Then I went to my "real" job for a long time and then got full circle back around. In 2013, I was making a bag on an airplane and somebody from Apple saw it and liked it and asked me if I wanted to make Apple bags. So I did that for a couple years (Apple commissioned Balitsaris to create 15,000 bags) and Waltzing Matilda USA was officially born, then launched this little brand.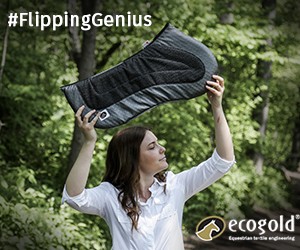 What product was it for?
It was for their MacBook 13" and 15". That was great. It gave me the impulse to get started. I was making a bag at the time from scraps from Red Wing Boot Manufacturing Company. So I always loved the fact of making things from old vintage pieces and bringing new life into them. That's what I really have done and continue it on. I use chaps, horse tack or saddles, among other domestic resourced leathers, but I love working with the old vintage pieces and bringing new life into them.
Do you go around to all different shows or do you mainly stay put?
I have an airstream. It's an old vintage airstream that I take on the road with me. We did close to 12,000 miles last summer, so we'll start up again. I haven't done a lot of equestrian events before, but I'm really intrigued by it. It just seems like a good fit for what I'm doing. Especially that I'm using all chaps and tack for my products. I'll be on the road this summer again and into the fall, and I'll just kind of play it by ear and see how it goes.
What is your most sold product?
I would say sandals for sure. We started making these sandals in New York State and they've really been great, I've been very proud of way they've come out. Then backpacks and totes are kind of our staple. We do a lot of that.
Do you do branding, customization to them?
I can either do a custom brand for somebody, a farm or a barn or a school, we'll do a custom branding irons for them and then we do our own brands for letters. We have all the letters of the alphabet so we can do monogram branding as well.
One of the things I think that's different than most, that we do, is I make all my own hardware as well. So all of our O rings and collar buttons, everything but zippers, that's the one thing we don't make. Literally, we have a blacksmith's shop and we hand forge everything, including all of our silver and everything else that we make.
Find Waltzing Matilda USA at www.waltzingmatildausa.com and at booth 40A at the Devon Horse Show.