Cornelia Dorr is two-thirds of the way through her second trip to the National Junior and Young Rider Championships and is currently sitting pretty atop the CICOY2* championship at Rebecca Farm in Kalispell, Mt. Following a clear cross country run inside the time yesterday, Dorr enters the final phase of competition with one rail in hand for show jumping.
Louis M, a 12-year-old Rheinlander gelding, is the horse Dorr leads the division on — she also has another shot at the CICOY2* podium in current third place with Sir Patico MH — is a dressage master, holding multiple records for low scores at the international levels. This weekend was no different as the pair achieved a 37.0, the only score in the 30s in the division, in the dressage. Louis is also well-known for earning 20 consecutive dressage scores under 40 penalty points — no easy feat at any level of competition.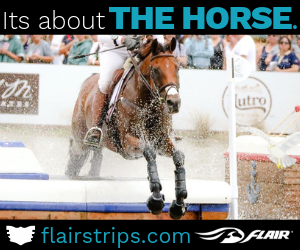 Dorr's first trip to NAJYRC came in 2016, where she finished third individually with Sir Patico MH in the CCI*-J. Now in 2017, she is sitting pretty as she looks ahead to a potential second individual podium finish as well as a team medal with the combined team of Areas I and IV.
"Louis was great," Dorr said. "He was, as always, my teacher and it was fun to just gallop around and have fun on him."
Dorr trains with four-star rider Sharon White back home, and she commented on the ability of her coach to put together a strong fitness program that ensures she and her horses are well prepared for any elements that come their way. While the weather was as close to perfect as can be this week, this was certainly not the case at the Jersey Fresh CCI2*, which Cornelia won aboard Louis M. The conditions were soggy at best, catching out many riders as they tackled cross country. Dorr credits coach White and the fitness program she has tailored with keeping her horses fit and able to take on the challenges that both good and poor weather bring.
Dorr is certainly feeling some pressure as she heads to the show jumping finale today, but she is already no stranger to her current position, and past experience has taught her to keep cool, even under the most immense of pressures.