It's been a super cold winter. And in Canada, it's been even worse. While most of their compatriots have fled to the warmer grounds of Florida, there have been a few brave souls who toughed it out in the brutal Canadian weather. We salute you!
Heels Down Magazine spoke with a few of these riders to get their thoughts on winter survival.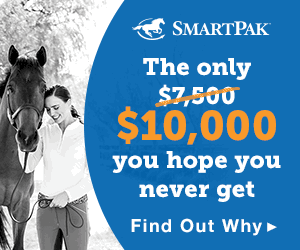 How many times a week do you ride in the winter?
Six days a week! In this part of Canada, you need a heated barn and arena to get through the winters.
–Maren Reinbold, 24, owner of hunter-jumper barn Nordic Farms in Calgary, Alberta
I usually get to ride every weekday – sometimes multiple horses. I feel as though a lot of riders are acclimated to riding in the cold. However, when the winds are high, it becomes almost impossible for me or the horses to focus.
– Jessica Einwechter, freelance trainer and professional rider (primarily hunter jumper) at Springen Equestrian in the areas surrounding Guelph, Kitchener and Waterloo, Ontario
Now that we've all acclimatized to the cold, we are back riding every day.
– Siobhain O'Connor, owner of Stryder Eventing, based out of Good Day Farm in Erin, Ontario
How do you cope with the cold, and what precautions do you take?
When it gets this cold, you can really only ride horses who are boarded inside and clipped. You shouldn't turn out a horse when they are sweaty if it's colder than minus 8 degrees Celsius. Most of mine love being inside horses! They are warm and dry all the time, and it also get the young ones ready for shows where they do not get turned out.
– Maren
We have to layer up, and this reduces the rider's flexibility and dexterity. Sometimes snow pants for young riders are slippery and can be dangerous. Likewise for snow boots, which offer warmth but are unsuitable to be jammed in a stirrup.
Keeping lessons upbeat and fun also keeps people warm. To prevent my feet from freezing on the cold sand, I stand on the mounting block, jump rails, or something just to get my feet off of the ground.
Also, don't forget your tack. Leather at -20 degrees Celsius is different than at 20 degrees Celsius.
– Laura Kelland May, owner of Thistle Ridge stables in Ottawa, Ontario, and Equestrian Canada "S" judge and senior steward
Before insulating the indoor arena, I often rode with battery-operated, heated soles in my Parlanti boots! If we keep the indoor and stables too warm, we find horses start hating being turned out. But we find that if they are well dressed, they actually love it. Even our imported horses! At one point during winter, we will have to snow blow the paddocks so the horses can move while out.
– Maude Boulanger-Bouchard, 31, professional hunter jumper in Mirabel, Quebec
Let's not forget the critical piece of clothing: socks. They have to wick and be warm. So far, the best have been my two pairs from Muck Boots company. They have something magical woven into them.
I ride a lot of mares. If it's really cold, we do fun ground work or free jumping. Keep the peace.
– Siobhain
The biggest precaution, especially if I'm riding outside and not in an indoor arena, is that I give a horse enough build-up and walking time as to not bring them to a point to where they're respirating heavily. Just like us, the horses can suffer damages from breathing in cold air when they're working.
– Jessica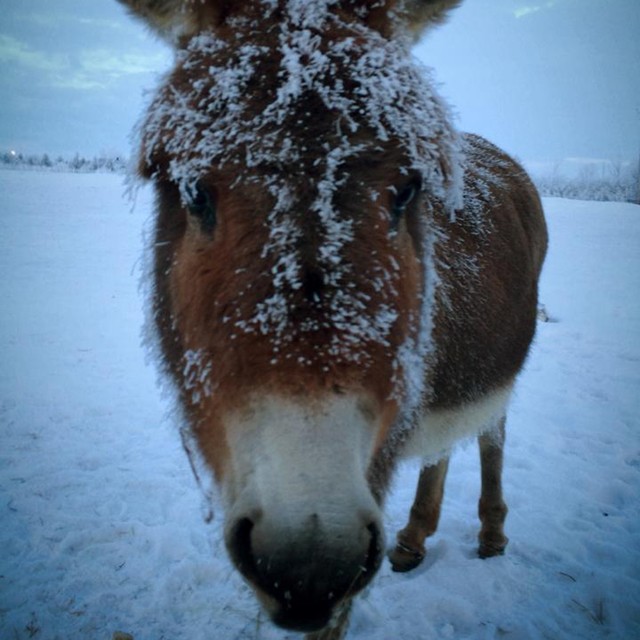 How much does your horse hate you?
I'm not sure if the horses hate us or not. No more than usual. To prevent cranky and cold horses, when it is cold out, we step up into an easy trot and let the horses (and riders) warm up at a trot – usually in two-point to allow the horse's back to get warm.
– Laura
I have one horse that absolutely hates the winter. I hope he doesn't hate me for it! I used to be gung-ho about continuing training all through the winter, but at this point in my life – and learning from experience – I'm not opposed to giving horses one or two of the cold months off. Especially youngsters or seniors.
– Jessica
When is it too cold to ride? What's the coldest you've ever ridden in?
When the real temperature is colder than minus 15 degrees Celsius, I start to change up my program. I wasn't riding at minus 20.
– Siobhain
I think it gets dangerous for horse and rider around minus 20 degrees Celsius (minus 4 degrees Fahrenheit). This is where the horse is just plain trying to stay warm, and you have to consider the horse's lungs as well.
– Laura
The horses don't get turned out if it's colder than minus 15 degrees Celsius, so they need to be ridden that day to get the sillies out.
– Maren
I used to refuse to ride when it was below minus 20 degrees Celsius. It is too cold to turnout below minus 25 degrees Celsius. When colder than minus 20 degrees, turnouts are kept short (20 to 60 minutes), and horses are dressed extra warmly.
– Maude
One night, I do remember riding in minus 25 degrees Celsius before the wind chill.
– Jessica
Many of your compatriots are in Florida. How are you keeping up with your horse's fitness at home, and how often do you shake your fist at those in Florida?
Every single day! I'd love to go back to California – or anywhere, really, that doesn't have a high of minus 20 degrees Celsius for the week! – Maren
Weather permitting, and on milder temperature weeks, we will hack outside in the snow (we even used to, mid-winter, snow-blow a lap around the ring). The horses actually love it. It's a great break from training inside four walls, and the high snow is great cardiovascular exercise for everyone, horse and rider. – Maude
I shake my fist at those horses in Florida every day. I'm pretty sure my horses give them the silent treatment once they finally come home. I like to take the winter as an opportunity to get creative and spend more time on the ground with a lot of the horses. I find that it actually really lets me learn more about their personalities, which helps us understand one another a lot better when we're hard back at it in the spring. Slow and steady is the winter mantra for fitness.
– Jessica
We are really utilizing our indoor with lots of poles and blocks, creating great exercises to help build the core muscles and balance in the horses. The exercises really engage the rider's mind and hone their reflexes.
– Siobhain
What extra cold-weather gear and equipment do you have that people in other regions don't have a need for?
A kettle and the largest thermos that we can find to unthaw the auto waterers outside! Also, the need to always have a torch in the barn if the hot water doesn't work. One year, it went down to minus 45 degrees Celsius without the wind chill, so most horses got three blankets on for that cold snap!
– Maren
We have small bump-like corks on our horses' shoes for turnouts.
– Maude
Heating tape on the water lines. A heater down the well. Block heater for the tractor. Antifreeze. Pick axe for ice. Twenty layers of clothing.
– Siobhain
The best investment for my barn has been heated buckets. Thermal blankets for the horses are another big investment that has been more popular this year. This is the first year I bought some heated socks, which were a dud. I'm always looking for new and improved ways to keep my body warm and functioning so I can be at my best – and not my half-effort, frozen zombie counterpart that we all tend to turn into.
– Jessica