Competition vs Camaraderie: Building A Supportive Barn Family

Team camaraderie doesn't always naturally apply to equestrian sports. In most aspects, and especially in the lower levels, riders are competing on their own and not necessarily in a team setting.
But that doesn't mean riders from the same farm can't and shouldn't support one another, said Jessica Payne, a professional eventer and host on the Heels Down Happy Hour podcast.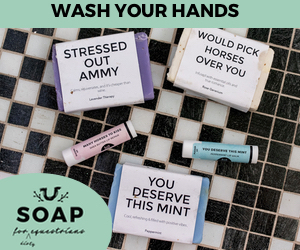 "I think being competitive is healthy and a good thing," she said. "But it can also be an extreme. If you want everyone to do badly, that's not teamwork. It's hard in the equestrian industry, in that this is not a team sport in most aspects, so you're competing against everybody."


Listen To Heels Down Happy Hour Podcast Episode 41: How To Ride Through Hardcore Riding Anxiety
But the barn is a great place for young riders to learn to support one another, even if that means a friend pins better than you at the horse show one day, Jess said.
"I have three brothers and sisters. We're a very competitive family, but in a weird way. We want all of us to win. If we're first through fourth, we brought home the gold, honestly," she explained. "So if my sister beat me, good on her, she brought her A game better than I did that day."
That's the kind of mentality the Paynes instill in the young riders at their farm.
"In our barn, this is a team sport," Jess said. "You cheer for everybody. With our young riders, I tell them, 'I want you to beat me every day. I hope I taught you to become a better rider than I was that day.' We focus on that
camaraderie to support and cheer for each other."
That doesn't mean that Jess doesn't want her students to go into the ring determined to win.
That doesn't mean I don't want to win, but I'm happy even if a friend beats me.
"Because everyone competes against each other, sometimes they don't remember this is supposed to be a fun sport," she described. "That doesn't mean I don't want to win, but I'm happy even if a friend beats me."
At the end of the day, the barn and your fellow riders should be a safe zone, Jess explained.
"One of our students went the the Adequan/FEI North American Youth Championships last year and I was just so proud of her. She cheered on everybody. She said she wanted to beat every other team, except her team members. She just didn't want to be the drop score," Jess said. "It wasn't about her winning. She didn't want to let down her team."