The ideal chilly winter day of an equestrian may include a heated lounge, where in between rides you sipped lattes all morning and wine all afternoon. Once your next horse was ready and warmed up, you would traipse from the couch straight into the cozy indoor. Afterwards, you may hop on your private jet to Maui, because the sight of snow outside was just getting you a little down.
This is not the reality for most of us (if it is – can we be friends, please?). Winters "up north" conjure groaning memories of getting soaked while breaking the ice in water buckets, constantly dressing and undressing in precisely four hundred layers, and having icicle legs, because no way can you be taking snow pants on and off all day. A constant uphill battle to keep your body the right temperature while switching between riding, chores and maybe teaching.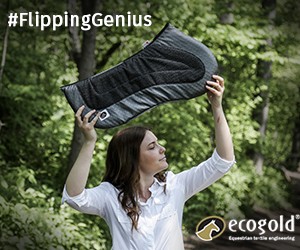 Uncomfortable, and sometimes bad for your health. At a time when I was working as a coach/barn manager/rider/poop scooper/tractor driver, which involved just as much wading through frozen mud as it did sitting on horses, my doctor told me that the constant cold and lack of proper gear was essentially causing chronic minor frostbite. Scalding showers after work left my skin looking like the Canadian flag. I gave up on the notion of having "nice" breeches.
For those of you wincing along with me – you are not alone. Connie DeMaio, a trainer based out of Brooklyn, New York, struggled to stay warm, dry and clean during busy winter days. She came across a heavy men's coverall piece at a yard sale years ago and bought it because she was dying for just one functional piece she could throw on over all her riding clothes to stay warm. It wasn't very flattering, the material was heavy, and she struggled to get it on and off over her boots. Yet everywhere she went, people asked her where she got it.  That's when she knew there were other riders and trainers looking for the same thing.
As luck would have it, one of her students, Allison Malenfant, was a retail merchandising and product development expert who had spent an entire career in the activewear market. They put their heads together, and an equestrian coverall was born under the brand name REDINGOTE. "I had already been thinking that there were some gaps in the market I'd like to fill.  So when Connie discussed her idea with me, we decided to start with the perfect one-piece outerwear for fall 2018 and spring (coming 2019)," says Allison.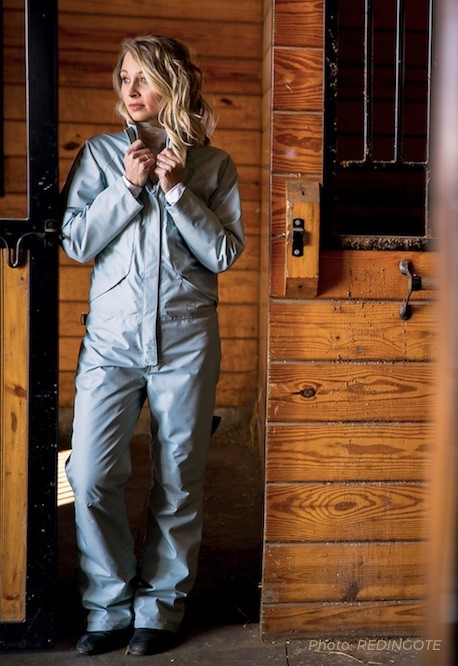 A breathable waterproof shell (complete with taped seams) covers a quilted insulated lining. The fabric is similar to what you would expect from a ski jacket in terms of performance, with a textured dobby weave for a luxe finish. Zippers are everywhere: up the back of the legs so that you can swap riding boots for wellies, armpit vents, and a wipe-able treat pocket. There's a D-ring to clip your spurs onto, a whip holder, and is made to fit over your breeches and top without making you look like a Michelin Man. Magnets are used instead of Velcro, to eliminate the annoying hay accumulation and stickiness to your clothing.
Considering that the main goal is to "ride horses," equestrians have a lot of activities that involve standing around, carrying things around, and being outside when we really shouldn't be. We salute these two horsewomen who used their imagination and skills to come up with something to wear the 60% (80%? 90%?) of the time we're not on a horse's back.
What about spring? "We are coming back with a fully rideable one-piece rain shell, including knee patches, optional stirrups, and an oversized hood for helmets," says Allison.
The winter season suddenly got a little more tolerable.
The REDINGOTE jumpsuit is available in sizes XX-Small through Large. Check it out at redingoteequestrian.com.