Never been to a World Equestrian Games before? Well, get ready for some of the best horsey-related shopping of your life. The Tryon International Equestrian Center is poised to draw thousands of spectators to a sleepy little town in North Carolina in the coming days. On top of all the top-form action of horses and riders competing in eight FEI riding disciplines for world championship titles, fans will get to enjoy the beautiful TIEC venue, its trade show, and its slew of drool-worthy vendors.
Heels Down Magazine has cobbled together a guide of what to bring, what to wear, and what to buy at WEG in Tryon. You're welcome.
What to pack:
I hate to break it to you but… the weather forecast is looking a little dreary for Tryon during WEG. Can someone please explain to me the difference between "isolated thunderstorms" and "scattered thunderstorms"? Both sound icky. This means layers and Wellies (or these waterproof all season boots from Greenhawk). And what do you do with your rain jacket/sweater when the sun suddenly decides to show its flaky self? Go full prep school of course, and tie the sleeves around your shoulders.
I checked for you (because I'm a nice person and I'm living vicariously through your WEG experience) – there are no umbrellas are allowed. This does seem like a cruel rule, but make sure you have a decent hood and/or hat. Yes, I do sound like your mother. You can thank me later.
Wait… Clear bags?
If you haven't heard, any big bag brought into WEG needs to be clear plastic for security reasons. You won't believe me, but these are trendy in the Muggle world. I personally shied away, because my bags all become black holes of crunchy receipts, dirty forks, and bits of hay. Maybe a stray spur (where is the other one?). However, if you're groaning about needing to buy one, keep in mind that you could, in fact, use it beyond WEG (life after WEG? Hard to imagine).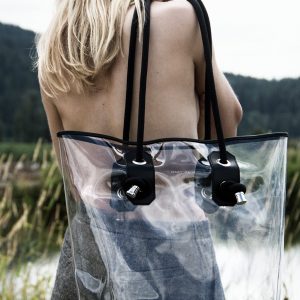 See? Trendy. Although I do recommend wearing a shirt at WEG. Sounds like it's going to be chilly. Bag by Mary Rich. 
What is a pint-sized snack, anyway?
Yes, it's reasonable that WEG wants you to taste all the delicious tasty treats they have on offer (and buy). And hey, it is a vacation after all. But it's also reasonable that after the flight, ticket and hotel, your bank account is sitting lower than Michael Jung's dressage penalty scores (oh Michael, we'll miss you there). What can be pint-sized, but keep you full the longest? Nuts, jerky, peanut butter celery sticks, or cheese (OK, maybe not cheese, that would smell weird after a couple hours). If you're not feeling quite as creative, just shove as many energy or protein bars as you can into that little baggie.
Read this next: Top 10 Ways To Get Around WEG's Spectator Rules
Must sees of the Vendor Village:
HandsOn Gloves: A guarantee to make your pony or pooch love you more. These awesome gloves would make the perfect small gift to bring back for the poor animal(s) you "abandoned" at home. You'll need to win back brownie points, you neglectful parent you. Stay tuned to heelsdownmag.com for our product review.
Joules: You get there, and you realize that you packed the wrong clothes. They're not cute enough, waterproof enough, or they don't have enough cute horse prints on them. Trust a brand from Britain to have cute rain gear – yes, with lots of pony prints.
SheFit: Hey, ladies. Things bounce when we ride. You're not alone. You would think that being a fashion designer and all, I'd be able to source out a decent sports bra – nope. This brand recently caught my attention, and though I haven't personally tried one, I'm very intrigued. Though your bosom is probably the furthest thing from your mind whilst watching the greats battle for medals, you may thank yourself later for finding the perfect sports bra.
Fab Finds by Sarah: I've been following this shop on Instagram for years. I like seeing an equestrian marketing "mainstream" clothing to other riders. And as the name suggests, Sarah does have good taste. Hey, you do need clothing for your Muggle life, right? Might as well support a fellow horse person. Bonus: lots of the shirts, sweaters and hats could definitely do double-duty as barn wear.
Equestrian Team Apparel: What's better than your barn crew? You barn crew in matching team duds. Even better? Your barn logo in glitter. Your trainer may not agree. ETA is a one-stop shop for Equi In Style sun shirts, breeches, and C4 belts that can be printed in-house.
How tacky is too tacky?
You're wondering whether wearing your country's flag tied around your shoulders like a cape is "too much," aren't you? Definitely not! Intensely patriotic events like this only happen so often (like every four years), and the zany outfits of passionate spectators add so much positive energy. Do it!